U18 South Hurling League Finals Held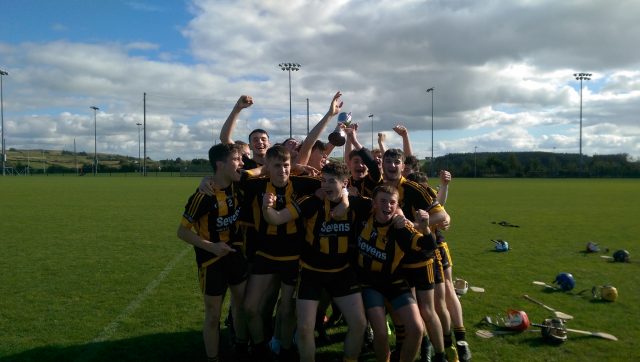 Sat 30th Sep 2017
Round 4: U18 South Hurling League Finals

Three teams met in the U18 Hurling League Final in the superb facilities in Garvaghy at the weekend.
First up, Eire Og faced Naomh Moninne.  Although the Louth side were trailing 0-3 to 2-1 at half time, they fought back well in the second half. However, Eire Og won out, hitting some fantastic scores to win on a 3-5 to 1-4 score line.
Eire Og requested to play next and faced Lisbellaw.  At half time the Carrickmore lads were up by two points, leading by 1-5 to 1-3.  The second half was all about the Fermanagh men, who outscored their Tyrone neighbours 2-2 to 0-3 and won the game by 3points. Lisbellaw 3-5, Eire Og 1-8.
This outcome left Eire Og and Lisbellaw having won one game each but with Eire Og up on score difference by one point (Eire Og +4, Lisbellaw +3, Naomh Moinne  no points)
Lisbellaw would have been confident going into the final game, however the Louth men had other ideas and were leading at half time 2-4 to Lisbellaws 2-2. At this stage the title was heading for Carrickmore but after two and a half games of great hurling the title could go to any off the 3 clubs.  Lisbellaw had the better restart with a couple of points, but Naomh Moinne were not to be outdone and even with another goal by Lisbellaw, the Louth men went onto score 4-3 in the second half. Final score Naomh Moinne 6-7 Lisbellaw 3-4.
It was down to score difference with each club having won and lost one game each.  In what was a great day of hurling and great way to finish the South Ulster League, Naomh Moinne took the title on score difference by the slightest of margins. Naomh Moinne +5; Eire Og +4; Lisbellaw -9.
Congratulations to the Naomh Moinne – 2017 South Ulster U18 League Winners.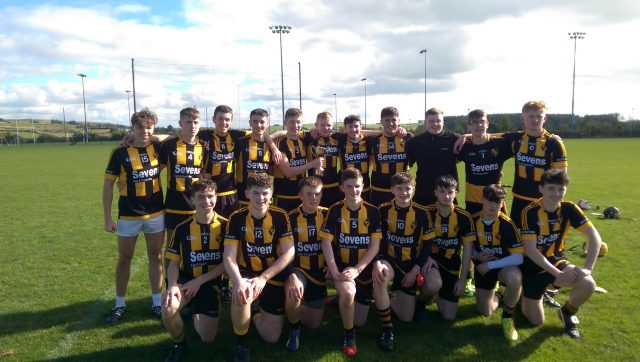 In the Shield Finals, there were also 3 teams aiming for glory in Abbey CBS, Newry.
Game 1. Warrenpoint got a great start and led by 8 at half time.  Knockbridge fought back in second half with two goals, however Warrenpoint pulled away in the last five minutes. Warrenpoint 4.04 Knockbride 2.03
Game 2. After a short break Knockbridge played Newry Shamrocks. Again, a slow start cost Knockbridge and The Shamrocks were more clinical in front of goal, running out comfortable winners. Newry Shamrocks 4.12 Knockbridge 2.04.
Game 3. The Final with both Warrenpoint and Shamrocks winning 1 game each.  It was nip and tuck all through the first half and the scores were level at half time. After losing two players to second yellow cards, Warrenpoint were unable to keep up with The Shamrocks and they ran out winners by 8 points.
Newry Shamrocks 2.06 Warrenpoint 0.04.
Congratulations to the Newry Shamrocks – 2017 South Ulster U18 Shield Winners. The presentation was made by Joe Edwards, Vice Chairperson of the Ulster Hurling Committee.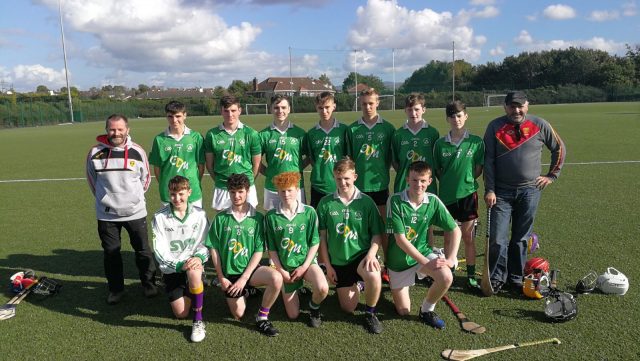 Ulster GAA would like to thank all clubs and referees for their important roles in the league.