Donegal too good for Armagh in Bank of Ireland Dr. McKenna Cup semi-final
Bank of Ireland McKenna Cup Semi-Final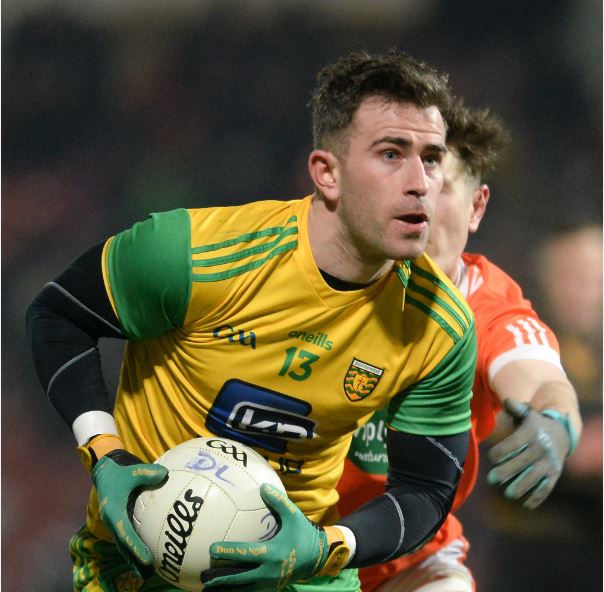 Donegal 0-20 Armagh 1-10
Patrick McBrearty was pivotal as Donegal advanced to the final of the Dr McKenna Cup for the first time since 2010 with victory over Armagh at Celtic Park in Derry.
McBrearty scored a total of eight points – including six in a first half in which Armagh were four points in front for a spell.
Stephen McBrearty and Niall O'Donnell both scored three points a-piece having come from the bench as the second half was a lot more comfortable for Donegal than the first had been.
Tyrone now await in the final on the weekend of February 17/18, with Mickey Harte's team going for their seventh successive victory in the competition.
Donegal, on the other hand, haven't appeared in the final since the pre-Jim McGuinness era when John Joe Doherty was in charge.
Wednesday's original meeting of the two sides was postponed in the cold snap and then both MacCumhaill Park in Ballybofey and Armagh's Athletic Grounds failed pitch inspections it was all off to Derry.
A 14th minute goal from Eamon McGeown confirmed Armagh's early dominance and Donegal's  struggles when faced with the direct approach.
With the scores level at 0-2 to 0-2, McGoewn claimed a high ball into the square and smashed just over. Then, on 12 minutes, there was a similar instance that led to the first goal of the evening.
Another direct ball was claimed again by McGoewn and although Donegal goalkeeper Mark Anthony McKinley did well to block the first shot, the Armagh full-forward tucked the rebound into the net to give his team a 1-3 to 0-2 lead.
In hindsight, it was an avenue that Armagh probably could've used more, although Donegal did shore it up a little with Caolan Ward moving to the edge of the square and Leo McLoone sitting in front.
However, with McBrearty helping himself to six first half points, Donegal got themselves back on terms by the break, 0-9 to 1-6, with Darach O'Connor, Ciaran Thompson and man of the match Nathan Mullins also on the mark.
Michael Stevenson scored twice for Armagh in that opening 35 minutes and Stephen Sheridan levelled it up at the break.
Two more McBrearty scores – either side of a Conor White point for Armagh – meant Donegal were just one up, 0-11 to 1-7, by the 45th minute. Niall O'Donnell's score doubled that advantage.
With Donegal on top, Mullins and Stephen McBrearty stretched their lead out to four by the midpoint of the second half, 0-14 to 1-7.
Armagh, who would score just four points in the entire second half, rung the changes as they cast their minds forward to the start of the Allianz League this coming weekend.
O'Connor, O'Donnell and Stephen Brearty added late scores in another decent haul for Bonner's team – adding to their 4-17 against Monaghan last Sunday.
That newfound attacking prowess will be tested though tomorrow week as they travel to take on Kerry in Fitzgerald Stadium in Killarney as their Division 1 campaign opens.
Scorers for Donegal: Patrick McBrearty 0-8 (3f), Niall O'Donnell, Stephen McBrearty, Darach O'Connor (1f) al 0-3, Nathal Mullins 0-2, Ciaran Thompson 0-1
Scorers for Armagh: Eamon mcGeown 1-3 (1f), Michael Stevenson 0-3 (1 '45), Stephen Sheridan, Oisin MacIomhair, Edward English, Conor White all 0-1
DONEGAL: Mark Anthony McGinley; Eoghan Ban Gallagher, Stephen McMenamin, Caolan Ward; Eamon Doherty, Paul Brennan, Tony McCleneghan; Jason McGee, Nathan Mullins; Caolan McGonagle, Ciaran Thompson, Leo McLoone; Patrick McBrearty, Darach O'Connor, Martin O'Reilly. Subs: Niall O'Donnell for McCleneghan (31), Ciaran McGinley for McMenamin (half-time), Stephen McBrearty for Thompson (42), Kevin McBrearty for McGee (56), Daire O Baoill for O'Reilly (65), Brendan McCole for P McBrearty (68).
ARMAGH: Patrick Morrison; James McAlinden, Oisin Lappin, Jason Cosgrove; Joe McElroy, Ryan Kennedy, Darren McKenna; Aaron Findon, Stephen Sheridan; Ronan Lappin, Anthony Duffy, Conor White; Michael Stevenson, Eamon McGeown, Oisin MacIomhair. Subs: Ryan Owens and Ross McQuillan for Sheridan and Cosgrove (half-time), Cahair McGeary and Edward English for McKenna and White (51), Daniel McQuiad for Lappin (51), Simon McCoy for MacImohar (61).
Referee: Niall McKenna (Monaghan)