Monaghan claim Electric Ireland Ulster Minor Football Championship title
Electric Ireland Ulster Minor Football Championship Final
Monaghan 1-9 Derry 0-9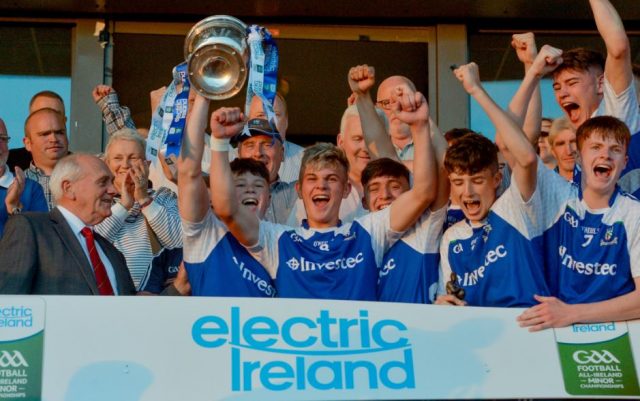 A sweetly struck penalty in the 52nd minute by Donnach Swinburne proved decisive for Monaghan to win the Ulster Minor Football final at the Athletic Grounds.
A low-scoring game, riddled with mistakes and manned by tight defences very much on top, saw both sides battle for supremacy throughout. However, when Conan Milne sithed down Monaghan's Jack Doogan late on referee Maggie Farrelly awarded a penalty. Swinburne dispatched the penalty with consummate ease to give the Farney men enough breathing space to hold off a gallant Derry side right to the final whistle in the dying Armagh light.
Derry scored the last three points of a very close first half to edge ahead by the minimum at half-time, leading 0-6 to 0-5.
The opening thirty minutes was very much a nervous affair, yielding just the three points from play.
Monaghan enjoyed the better half with free-taker Sean Jones handing them an early two point advantage. Derry replied with a free from Enda Downey before Eoghan Hawe scored the first point from play in the 12th minute to level matters.
Monaghan's left footed free-taker, Aaron Mulligan, nailed a brace of points as Seamus McEnaney's side regained the lead before the Oakleaf County finished the half with a flourish through scores from Conleth McGuckin and a brace from Enda Downey.
The second half continued very much as the first had ended with star men Sean Jones and Aaron Mulligan scores cancelling out points from Ethan Doherty and Enda Downey from Derry.
However, the games key score was the converted penalty with ten minutes to go.
Derry had their own goal chance a short time later, but 'keeper Ryan Farrelly produced an outstanding save to deny Eunan McElhennon's shot.
Frees from Conleth McGuckin for Derry, and then man of the match Aaron Mulligan brought this tightly fought contest to an end. A delighted Monaghan captain Brendan Duffy proceeded to raise the Father Murray Cup in front of the 2,876 fans at the Athletic Grounds.
Scorers for Monaghan: A Mulligan 0-5 (3fss), S Jones 0-3 (2fs), D Swinburne 1-0, R Grimes 0-1.
Scorers for Derry: E Downey 0-5 (4fs), C McGuckin 0-2 (2fss), E Hawe 0-1, E Doherty 0-1.
MONAGHAN: Ryan Farrelly, Ronan Grimes, Jack Doogan, Shane Hanratty, Christopher Flood, Breandan Og Dufaigh, Michael Meehan, Jordan McGarrell, Andrew Moore, Aaron Mulligan, Sean Jones, Karl Gallagher, Donnach Swinburne, Loughlinn Power, Jason Irwin
Subs: Mark Mooney for L Power (42), Oisin O'Hanlon for K Gallagher (60).
DERRY: Aidan Gillan, Conan Milne, Tiarnan Woods, Ronan McFaul, Aidan McCluskey, Johnny McErlain, Adam Canavan, Niall Doyle, Iarlaith Donaghy, Eunan McElhennon, Shea Murray, Ethan Doherty, Eoghan Hawe, Enda Downey, Conleth McGuckin
Subs: PJ McAleese for S Murray (41), Dara Mooney for A Canavan (49), Sean Kearney for E Hawe (55).
REFEREE: Maggie Farrelly (Cavan).
Report: GAA.ie