St Patrick's Downpatrick claim Ulster One Wall Handball title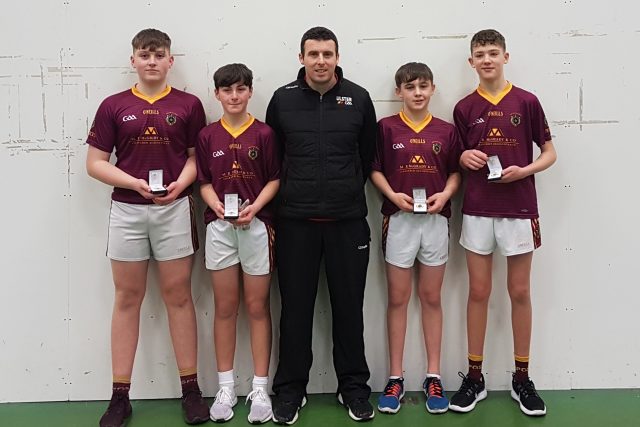 The provincial One Wall Handball finals for Under 15.5 Boys took place at Beech Hill College on Friday 7th December.
Throughout the qualifiers and finals day 120 players took part from 14 schools. Schools who made it through to the finals were St Ciaran's, Ballygawley, Holy Trinity, Cookstown, Patrician High, Carrickmacross, St Patrick's Downpatrick (Red High) and Beech Hill College, Monaghan.
With the competition structure now in place from 1st to 4th year, the standard is improving year on year. There are a lot of players playing for the school but have no outlet through their GAA club, the game is of great benefit for all GAA codes and would be an excellent winter sport to keep players active. Handball clubs need to be more proactive in recruiting these players.
Final Results:
Group A:
Beech Hill v Holy Trinity – (10-21) (18-21)
Beech Hill v Downpatrick 1 – (10-21) (14-21)
Downpatrick 1 v Holy Trinity – (21-14) (10-21) – Play-off (15-6)
Group B:
Carrickmacross v St Ciaran's – (21-18)  (21-19)
Downpatrick 2 v Carrickmacross – (16-21) (15-21)
St Ciaran's v Downpatrick 2 – (11-21) (8-21)
Final
Carrickmacross v Downpatrick 1
Game 1: 7-21
Game 2: 12-21
Comhghairdeas to the St Patrick's, Downpatrick (Red High) first team who were crowned winners.
Competitions for Under 13.5 boys and girls are scheduled for March and April 2019. Please contact shane.mccann.ulster@gaa.ie for further information.