Ulster GAA Volunteer Induction Award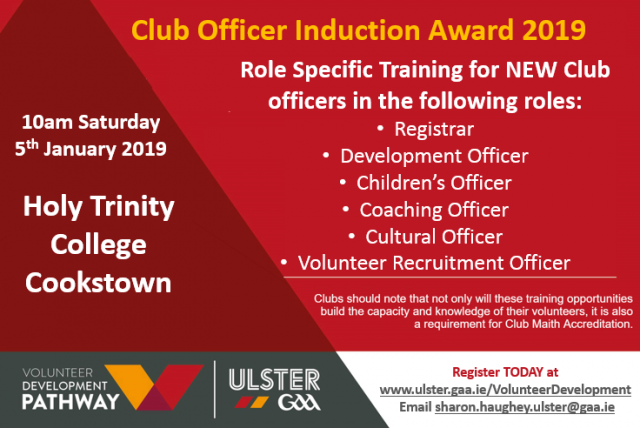 2019 NEW Club Officer Induction Award
Saturday 5th January 2019
Holy Trinity College, Cookstown
Ulster GAA's Club Officer Induction Award is for any GAA volunteer NEW to their role in 2019 across six key areas:
Registrar,
Children's Officer
Coaching Officer
Development Officer
Cultural Officer
Volunteer Recruitment Officer
This is an annual provincial event which all clubs are encouraged to have representation at.
Please note, this training will be complimented by the National Leadership Programme which will offer training for new volunteers in positions of Chairperson, Secretary, Treasurer and PRO.
The Club Officer Induction Award is a requirement of Club Maith and is Entry Level for Ulster GAA's Volunteer Development Pathway.
The Training Schedule is detailed below:
Time
Topic
Facilitator
9.30am
Arrival and Registration
Diarmaid Marsden
10am
Ulster GAA Volunteer Development Pathway: The Working of a GAA Club
10.20am – 12 noon
Role Specific Training Workshops
Registrar
Gerard Bradley
Children's Officer
Bernie Fox
Coaching Officer
Garreth Thornton
Development Officer
Fionntan O'Dowd
Cultural Officer
Tricia Ní Chearra
Volunteer Recruitment Officer
Sharon Haughey-Grimley

REGISTER FOR THIS TRAINING COURSE:
Register your club for attendance at this FREE training course through Eventbrite at the following link: https://www.eventbrite.co.uk/e/entry-level-club-officer-induction-programme-tickets-53140419425
For further details contact Sharon Haughey-Grimley 028 37517 180 or email sharon.haughey.ulster@gaa.ie