Budding reporter awarded Translink Young GAA Volunteer of the Year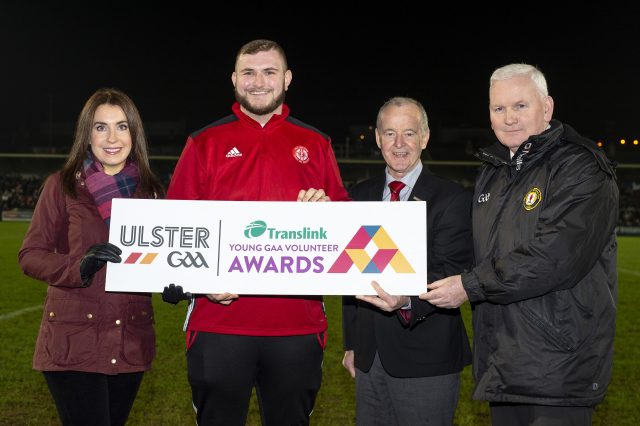 On Saturday night at the Bank of Ireland Dr McKenna Cup Final in the Athletic Grounds, Armagh, Translink and Ulster GAA announced the overall winner of the Translink Ulster GAA Young Volunteer of the Year award.
Cathal Mercer, 23, from Tir na nOg, Portadown was presented with the accolade at half-time during the game.
The Young Volunteer award is designed to celebrate the contribution people aged 14-24 make to communities across the province. Each month during 2018, clubs were invited to nominate youth volunteers who play important roles in areas such as coaching, mentoring, fundraising, and organising social activities.
A panel of experts met to select one overall winner for the year and Cathal came out on top. The panel was particularly struck by the breath of work he undertakes, attending games, writing match reports and keeping club members across the world up-to-date by regularly updating online networks.
Presenting Cathal with his award, Ursula Henderson, PR Manager, Translink said:
"This is the second time Translink has partnered with Ulster GAA to present this award and we are delighted to help them celebrate the importance of youth volunteering again.
"On behalf of Translink, I would like to congratulate all of our winners throughout the year, all of whom are outstanding young role models. Special mention must go to our overall winner, Cathal. It's clear that his volunteering efforts have a hugely positive impact on people around him and are greatly appreciated by his local community. The standard of entries throughout the year has been exceptional, so to win the overall award is a massive achievement."
Ulster GAA President Michael Hasson added:
"We are absolutely delighted to award Cathal Mercer from Tír na nÓg with Translink Young Volunteer of the Year. When people think about volunteering in sport their immediate thoughts are coaching or games development but the GAA offers many more volunteering opportunities for people.
"Cathal's important work in promoting his club ensures club members based across the world can keep up-to-date on all that's going on back home in their club. It also helps to promote the club in a very positive light and encourages new people to get involved. I warmly congratulate Cathal for this award and hope he continues to play an integral part in the GAA."
.