Ulster GAA make presentation to Cancer Focus NI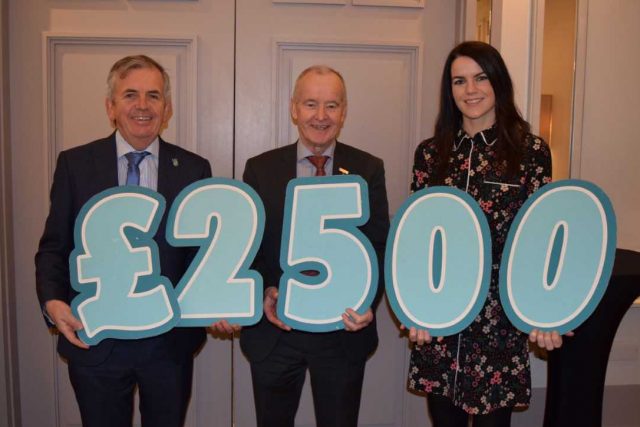 Ulster GAA have presented Cancer Focus NI with £2,500 raised through donations at the annual President's Awards last November at the Tullyglass Hotel, Ballymena.
Cancer Focus NI is celebrating its 50th anniversary this year and has launched a campaign to raise £100k to fund research into breast cancer at Queen's University Belfast.
Presenting the cheque former Ulster GAA President, Michael Hasson, said: "Ulster GAA were absolutely delighted to partner with Cancer Focus NI and we are incredibly grateful for the generosity of our guests on the evening who raised such a significant amount for the crucial work of Cancer Focus NI."
Kathryn Holland, Corporate Fundraising Manager at Cancer Focus NI, said: "Thank you so much to Ulster GAA for choosing to support Cancer Focus NI.
"Cancer Focus NI is a local cancer charity that provides a wide range of services for Northern Ireland cancer patients and their families. These include counselling and family support, bra and swimwear fitting for women who've had breast surgery, art therapy, stop smoking services and Keeping Well vans that provide community health checks and advice.
"We also fund major research and carry out cancer prevention schemes in workplaces, schools and at community venues."
Kathryn added: "This donation will help to continue our FREE services, helping cancer patients and their families across Northern Ireland."
If you are interested in finding more information about Cancer Focus NI, please contact Kathryn on kathrynholland@cancerfocusni.org or call 028 9068 0771.