Ulster GAA launch 'Caith an Fáinne' campaign to celebrate Seachtain na Gaeilge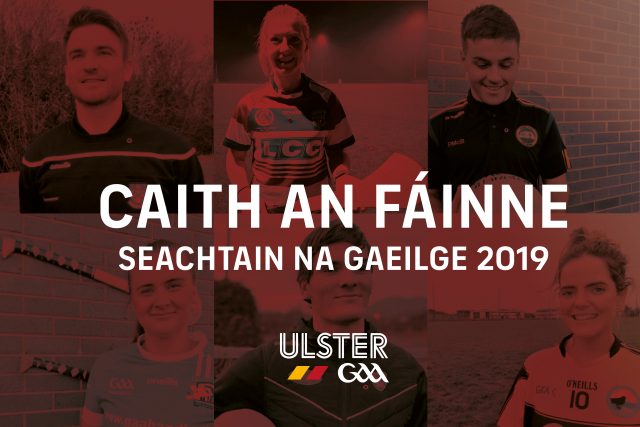 Tá Seachtain na Gaeilge anois faoi lánseol agus tá CLG Uladh ag ceiliúradh na féile le baill an CLG ó Chúige Uladh agus a dtaithí leis an Ghaeilge.
Ulster GAA is marking Seachtain na Gaeilge 2019 with a series of photographs of our members from across Ulster showcasing their experience with the language and whether they have the Fáinne Óir (Gold Fáinne), Fainne Airgid (Silver Fáinne) or just a 'Cúpla Focal'.
This campaign aims to portray Gaeilgeoirí from across the province in an honest, authentic and realistic light. They range from fluent, daily speakers, to those who learned it at school and have since underused it, to learners and those who have yet to begin their Gaeilge journey.
Le linn Sheachtain na Gaeilge, beidh pictiúir ó bhaill éagsúla an Chumainn á bpostáil ag CLG Uladh ar na meáin shóisialta. Tá daoine ann a bhfuil an Ghaeilge ar a dtoil acu, tá baill eile ann a bhfuil meirg ar a gcuid Gaeilge ón scoil, agus tá foghlaimeoirí na teanga á léiriú san fheachtas fosta.
Ulster GAA will post a photo daily on all our social media platforms. We hope this campaign inspires individuals with varied abilities to use their Irish, return to the language or take it up for the first time.
CLG Uladh is also recommending that clubs carry out these five challenges throughout Seachtain na Gaeilge. Clubs and GAA members are encouraged to use the hashtags #SnaG19 #GAAGaeilge with their posts and photos so that we may see their efforts.
Féach moltaí CLG Uladh maidir le cur chun cinn na Gaeilge inár gclubanna:
Bígí ag postáil go dátheangach ar na meáin shóisialta / Post bilingually on social media platforms throughout Seachtain na Gaeilge.
Rang comhrá a eagrú chun deis a thabhairt do Ghaeilgeoirí an cheantair í a úsáid / Organise a rang comhrá for Gaeilgeoirí to come together and use their Irish.
Bainigí úsáid as ainm oifigiúil an chlub / Use club name as Gaeilge as provided by Ulster GAA's Irish Club Names Directory.
Déanaigí cinnte de go bhfuil comharthaí Gaeilge nó dátheangacha sna clubanna chun baill an chlub a spreagadh í a labhairt / Use signage throughout your club as Gaeilge, and encourage all members to use whatever Irish they have throughout Seachtain na Gaeilge.
Imeachtaí a eagrú trí mheán na Gaeilge / organise an event through Irish such as Biongó (bingo), céilí, tóraíocht taisce (treasure hunt), maidin caife (coffee morning), lá spóirt do pháistí (sports day for kids), seisiún traenála (training session) srl. Resources available at www.snag.ie.