Derry manager Campbell happy with championship preparation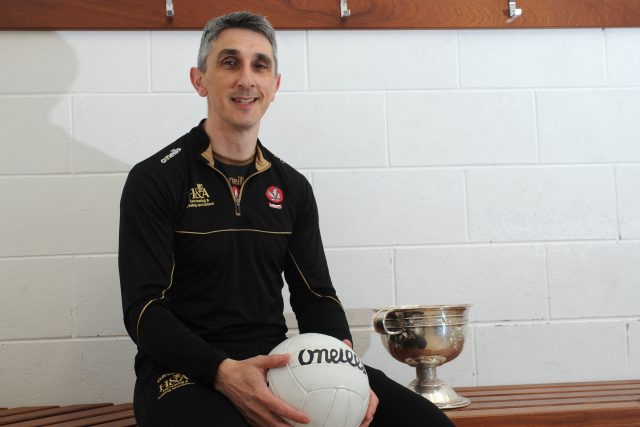 The Electric Ireland Ulster Minor Championship continues this weekend with four intriguing games down for decision not least the contest in the Athletic Grounds between Armagh and 2018 finalists Derry.
After a positive league campaign that saw the young Oak Leaf side win three of their four games manager Paddy Campbell thinks his side are in a good place going into the game with Armagh.
"We're actually pretty content at the minute", began Campbell. "During the league we really focussed on trying to find out as much as we could about the team, the players, the way they play, how they gel together. Bit by bit we got players back from school football and I suppose gelling back into the team. Now we're pretty much set to prepare for the Armagh game."
Saturday will not be the first time this year the sides have crossed swords but the former Donegal defender Campbell doesn't believe that too much can be read into that contest:
"We played Armagh in the league down in Derry, in Foreglen and we happened to win the game. However Armagh sort of came with half their starting 15 that day and you couldn't read to much into it. We're probably going to end up with six or seven changes too versus that day so you can't read too much into the league, but we are looking forward to it."
The one note of concern sounded by the Derry manager was around the home advantage for Armagh.
"The huge disadvantage for us is we're away from home for sure. We're away from home and that's worth definitely a few points to Armagh.
"Armagh are probably going in behind the radar with a slowish league campaign and missing a lot of players. I know Ciaran [Armagh manager Ciaran McKeever] will definitely be aiming for a good rattle in the championship. It's his first year in charge of them and he's definitely going to have them well prepped. They had a good game against Dublin at the weekend and by all accounts played very, very well."
Throw-in for Saturday's game at the Athletic Grounds is 6pm.
For more information on this year's Electric Ireland Minor Championship visit https://ulster.gaa.ie/ulsterchampionship2019/minor-football/