Free shuttle bus service for Down v Armagh championship match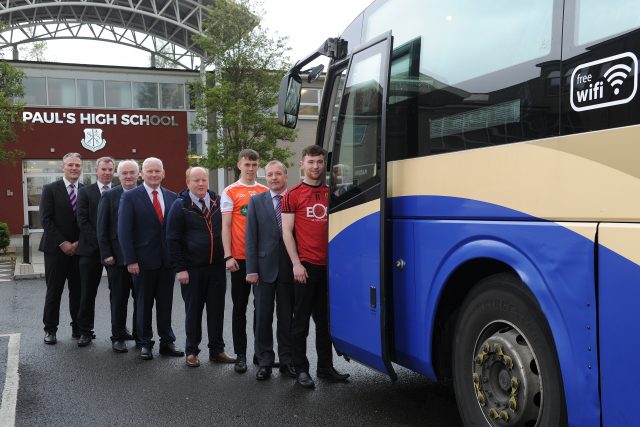 Ulster GAA will again be teaming up with Translink to provide a free shuttle bus service for supporters to enjoy convenient access to and from the Down v Armagh Ulster Football Championship game at Páirc Esler, Newry on Sunday 19th May.
Double decker buses will operate from Burren GAA Club, going via Warrenpoint and St Paul's School, Bessbrook, going via Newry Train Station. The shuttle buses will also operate after the match to return patrons to their pick-up point. The return buses for Bessbrook will leave from River Street and the return buses for Burren will leave from Old Warrenpoint Road.
Patrons attending the game should be aware that there will be no parking available in the immediate vicinity of Páirc Esler on the day of the match – this includes Kilmorey Street, Warrenpoint Road, Old Warrenpoint Road or on the dual carriageway.
Speaking at the announcement of the free service, Ulster GAA Treasurer Michael Geoghegan said:
"We are delighted to link up with Translink again on this shuttle service initiative for this much anticipated Ulster Championship derby game in Newry. There has already been substantial interest in this game and we expect a large attendance on match day. We would encourage our supporters in the area to avail of this service."
Commenting at the initiative, Greg McLaughlin, Translink Service Delivery Manager said:
"We are very pleased to be facilitating this shuttle service, which we hope will help ease congestion within Newry City centre and make sure everyone enjoys a stress-free journey to and from Páirc Esler. Ensuring patrons have a safe journey to and from major games like this is a key consideration for both Translink and Ulster GAA. We look forward to welcoming supporters from both teams on board!"
For full ticketing information, including how to buy your match ticket early and save up to 30%, visit ulstergaa.ie/ulsterchampionship2019
Full information on pick up times and points is available at Ulstergaa.ie/shuttlebusservice
ULSTER GAA SHUTTLE BUS SCHEDULE
St Paul's Bessbrook –
Departures at: 13.00 – 13.30 – 14.00 – 14.30 – 15.00
Translink NIR Train Station –
Departures at: 13.10 – 13.40 – 14.10 – 14.40 – 15.10
St Mary's GAA, Burren –
Departures at: 13.00 – 13.30 – 14.00 – 14.30 – 15.00
Warrenpoint Square –
Departures from: 13.10 – 13.40 – 14.10 – 14.40 – 15.10