Ulster GAA launch Coirnéal na Gaeilge at the 2019 Ulster Championship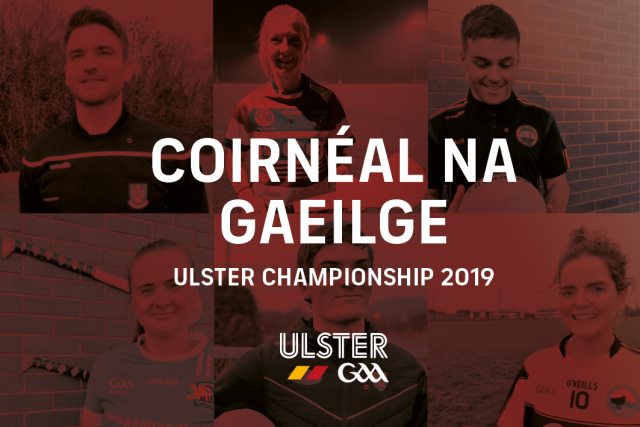 Ulster GAA is proud to announce the provision of the official, 'Coirnéal na Gaeilge' initiative throughout the 2019 Ulster Championship.
These areas are not exclusively for those fluent Irish speakers who are confident in their ability to converse as Gaeilge, but for all patrons who wish to avail of the opportunity to experience, speak and hear Gaeilge throughout our games.
Throughout the Preliminary Round and the first three Quarter-Finals (12th, 18th, 19th and 25th May), Coirnéal na Gaeilge will be located in the terrace area of the stadium. A specific location in each terrace will be advertised in the days preceding the games and will be marked for Gaeilgeoirí to easily identify on arrival.
Patrons of Coirnéal na Gaeilge can avail of a Group Pass offer throughout the Preliminary and Quarter-Final fixtures; a reduced ticket of £13/ €15 will apply for terrace, when purchased directly from Oifigeach Gaeilge CLG Uladh.
From the 26th May clash between Dún na nGall and Fear Manach in Brewster Park, throughout the Semi-Finals and Final games, specific seated areas will be reserved for those wishing to watch the match from Coirnéal na Gaeilge. Should any of these arrangements change throughout the course of the Championship, patrons will be made aware.
Applications and queries re: ticketing for this Gaeilge section should be made directly to CLG Uladh and are dependent on availability. For further pricing, and to avail of tickets for Coirnéal na Gaeilge at all stages of the Championship, please contact An tOifigeach Gaeilge at tricia.nichearra.ulster@gaa.ie or Ulster GAA offices on 028 (048) 3752 190.
Tá bród an domhain ar CLG Uladh 'Coirnéal na Gaeilge' a fhógairt do shraith na bliana 2019. Ní áit eisiach í seo nó ba mhaith linn daoine a bhfuil an Ghaeilge ar a dtoil acu, agus daoine ag tús phróiseas na foghlama a mhealladh chuig an Choirnéal ionas gur féidir leo an Ghaeilge a bhlaiseadh agus a chluinstin.
Ón 12ú-25ú Bealtaine, moltar do Ghaeilgeoirí, nó dóibh siúd a mbeadh suim acu an Ghaeilge a chloisteáil le linn na gcluichí, ticéid a cheannach d'ardán an staidiam.
Ón 26ú Bealtaine, agus an cluiche idir Dún na nGall agus Fear Manach, beidh áiteanna ar leith curtha in áirithe don 'Choirnéal' seo. Beidh lucht na Gaeilge i dteideal lacáiste agus £13 / €15 ar thicéid an Choirnéil go dtí an 26ú Bealtaine, agus an ticéad sin faighte ó Oifigeach Gaeilge na Comhairle.
Caithfear teagmháil a dhéanamh le CLG Uladh agus le hOifigeach Gaeilge na Comhairle: tricia.nichearra.ulster@gaa.ie, más spéis leat ticéad a chur in áirithe do Choirnéal na Gaeilge.