Official launch of the 2020 Conor McGurk Cup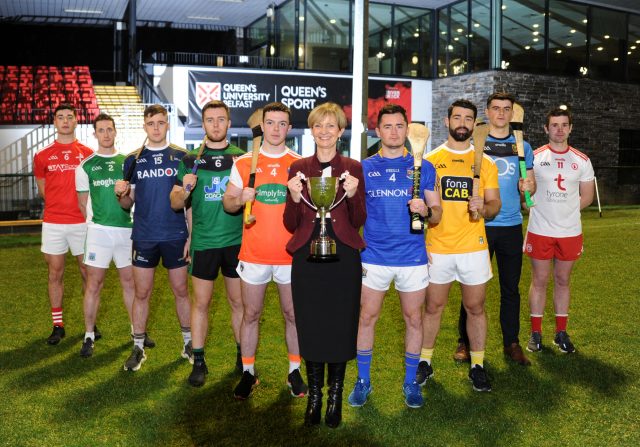 The 2020 Conor McGurk Cup was officially launched last night at Queens University Playing Fields.
Ulster GAA is proud to continue its support of the hurling tournament for the third year running.
Speaking at the launch, Declan Woods, Ulster GAA PRO said:
"Conor McGurk was a leader for the sport of Hurling at Queen's for many years and the continuation of this tournament is a fantastic legacy of his great contribution to the development of the small ball game at Queens."
He added:
"I would like to pay tribute to Queen's University Hurling Club who established and successfully ran the tournament as an invitational pre-University Championship / pre- County National League event to be played in the New Year at their home here in the Dub.
Hurling in Ulster had a need for a pre league competition that could give our teams the same preparation as the McKenna Cup and the Conor McGurk Cup continues to offer that."
The 2020 Conor McGurk competition will feature nine teams who will compete across three sections.
The teams involved include Queens, Ulster University, Armagh, Antrim, Down, Fermanagh and Tyrone as well as Louth and Longford.
2020 Conor McGurk Fixtures
Roinn 1 (Sunday 01 December)     
Section A           Armagh V Longford       at Clones Peacelink 3G 1.30pm
Section B           QUB V Louth                   at The Dub  12pm (Pitch 13)
Section C           UU V Down                      at The Dub  1.30pm (Pitch 15)
Roinn 2 (Saturday 07 December)
Section A           Antrim V Armagh           at The Dub  12pm (Pitch 13)
Section B           Louth V Tyrone               at The Dub  1.30pm (Pitch 15)
Section C           UU V Fermanagh            at UU Jordanstown
Roinn 3 (Saturday 14 December)
Section A           Antrim V Longford         at The Dub 1.30pm (Pitch 10)
Section B           QUB V Tyrone                 at The Dub  12pm (Pitch 13)
Section C           Down V Fermanagh       at The Dub  1.30pm (Pitch 15)
Semi Finals (Sunday 29 December)
Semi Final 1      Section A V Section B                at The Dub 12.30pm
Semi Final 2      Section C V Best Runner Up    at The Dub 1.45pm
Final (Saturday 04 January)
at The Dub Arena 7.00pm