Ulster Referee Awards 2019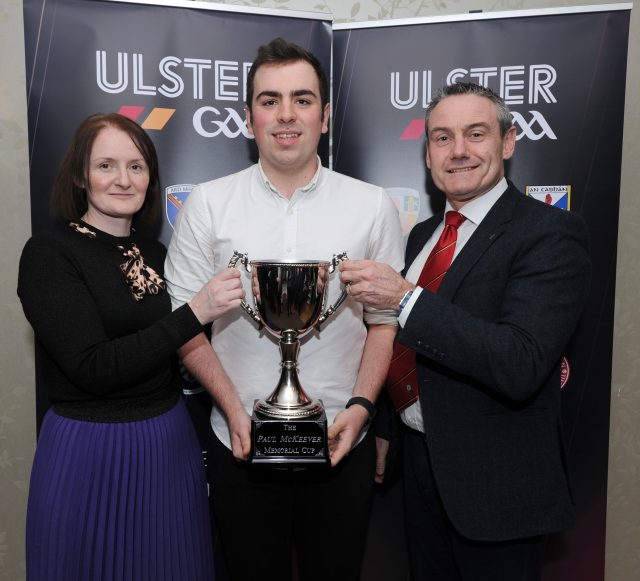 The 2019 Ulster Referees Dinner took place on Monday 16th December in the Four Seasons Hotel, Monaghan. Ulster PRO, Declan Woods, was MC for the evening and thanked all our referees for their time, commitment and involvement in the delivery of our games programme. Without referees, there are simply no games. All of our referees make themselves available and some at very short notice.
In November 2018 we were stunned by the tragic passing of Antrim referee Paul McKeever. From the Roger Casements club in Portglenone, he joined the Ulster Referees Academy in 2014 and was a member of the National Support Panel for two years. Paul's wife Nicola, his wider family and his team of umpires were present on the night as they donated the Paul McKeever Memorial Cup to be awarded to the Young Referee of the Year. It was indeed, a fine tribute to a great individual and fittingly, the first recipient was a fellow Antrim gael, Conall Roberts.
Ulster Referees Chairman, Jim O'Rourke made special reference to those who were involved in Overseas Finals in 2019. He commented that the standard of our refereeing this year was extremely good and thanked all the referees for their input and availability over the past 12 months. He congratulated the 7 graduates from the Referees Academy, namely Cathal McDermott (Antrim), Kevin Parke (Antrim), Jake Magill (Armagh), Barry McMenamin (Cavan), Aiden McAleer (Donegal), John Murphy (Fermanagh) and Garry Gormley (Tyrone) and encouraged them to continue on their refereeing pathway.
Ulster GAA Leas Uachtarán, Ciaran McLaughlin, echoed these comments and highlighted that Ulster GAA has invested heavily in the development of our referees. Radio equipment, health checks and regular guidance illustrates this point. He thanked all referees for undertaking the various roles during the year.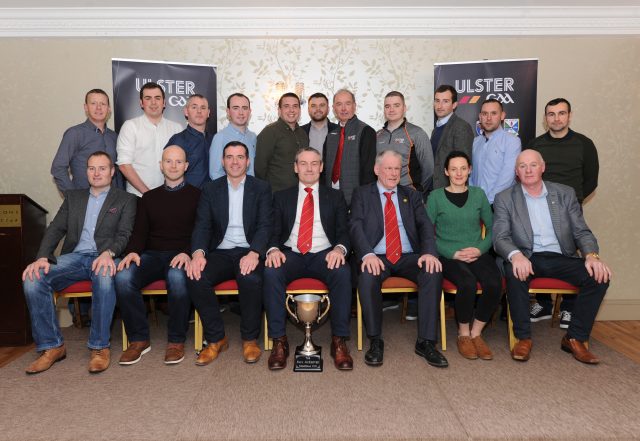 The following referees received awards:
Ulster Senior Football Championship – Conor Lane (Corcaigh)
Club Senior Football Championship – Sean Hurson (Tír Eoghain)
Club Intermediate Football Championship – Kevin Faloon (Ard Mhacha)
Club Junior Football Championship – Kieran Eannetta (Tír Eoghain)
Club Senior Football League – Conor Dourneen (An Cabhán)
Club Intermediate Football League – Enda McFeely (Dún na nGall)
Club Junior Football League – Conall Roberts (Aontroim)
Club Senior Hurling Championship – Aidan Ferguson (Fear Manach)
Club Intermediate Hurling Championship – Tarlach Conway (Doire)
Club Junior Hurling Championship – Colm McDonald (Aontroim)
Ulster Minor Football Championship – Dan Mullan (Doire)
U20 Football Championship – Paul Faloon (An Dún)
Dr McKenna Cup – Joe McQuillan (An Cabhán)
Ulster Minor Football League Maggie Farrelly (An Cabhán)
Ulster Minor Football Shield Mark Dorrian (Dún na nGall)
Toronto Trip: Darren O'Hare (An Dún)
Toronto & Eastern Canadian Finals: Kevin Faloon (Ard Mhacha)
Scottish Football Final: Micheal Moore (An Dún)
Referee of the Year (John McGlinchey Memorial Cup)
Noel Mooney (An Cabhán)
Young Referee of the Year (Paul McKeever Memorial Cup)
Conall Roberts (Aontroim)