FEATURE: Donegal's Patton taking every chance that comes his way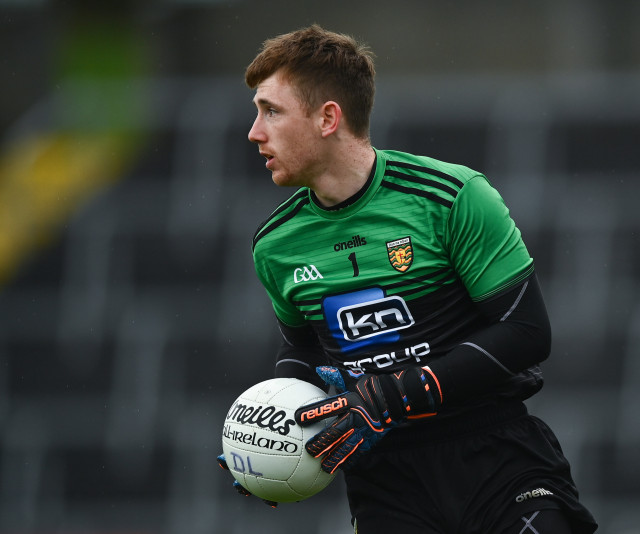 With Shaun Patton going for his third Ulster SFC medal tomorrow, he has the distinction of still being undefeated in provincial championship during his inter-county career.
The Donegal goalkeeper has taken the road less travelled to the Tir Conaill number one jersey.
A former professional soccer player in the League of Ireland with Derry City, Finn Harps and Sligo Rovers, Patton switched to Gaelic football in 2018 following a call from the blue from county boss Declan Bonner.
Prior to that, he'd played just two adult Gaelic Football games, for St Eunan's in the 2014 Ulster Club Championship game. He had left the sport at U-12 level to concentrate on a career in soccer, and was in negotiations to join Cork City when Bonner got in touch.
"I was mostly soccer orientated and focused on trying to do well in it," says the 25-year-old. "Fortunately, I got to play well with a couple of great clubs in the League of Ireland. When Declan offered me to come in and have opportunity to be part of the panel, I went in and saw what it meant to the group that was in there at the time. I got sucked into it, and I've loved every second of it since I joined.
"[The decision to join] definitely took a bit of time, talking with the family and my girlfriend. It was such a shock that when he called me, I was wondering did he have the right fella at the time. I was thinking, 'Right, this is an opportunity for me'."
It wasn't long before he had overtaken both Mark Anthony McGinley and Peter Boyle to become Donegal's first choice keeper in his first season. He's been a mainstay in the team ever since, and a vital cog in the Donegal game plan.
Growing up though, his inspiration wasn't watching the likes of Stephen Cluxton. He wasn't on Patton's radar as much as another keeper from a different code but much closer to home.
"Going back years ago, you're always fantasizing about playing Premier League football, and seeing a local man like Shay Given, he's only over the road in Lifford. He's a massive inspiration and he came from a small place to go over there and play. He gave me a real inspiration to be a goalkeeper from watching him growing up my whole life."
Patton still followed Gaelic Football while plying his trade in soccer, but he admits he didn't pay particular attention to the game's goalkeepers and how they operated.
Since coming into Bonner's panel however he has been diligently working on his game with the Donegal coaches, and when 2012 All-Ireland winner Paul Durcan returned to the squad last year, Patton mined him for knowledge.
"'Papa' had this unbelievable disguised kickout, it's just outrageous, and it's an absolute pleasure to watch. You see things like that and see how talented the keepers are. You obviously have Cluxton and David Clarke who have been top keepers for a long, long time. But I wouldn't have made pointers in what they were doing going back to 2012, I was more focused on soccer.
What would he say is the difference between goalkeeping in Gaelic football and soccer?
"I don't really know, to be honest. I put a lot of work into being a goalkeeper growing up. Once I got the chance to start playing and get a bit of coaching was fantastic. Working hard with the coaches is probably the main thing, bouncing ideas around and trying to get information off the people you are training with. Papa was in with us, and it was about trying to drain as much information out of him as possible because when you're training with a fella like him, who's been there and done it all, it's always great to get a few pointers like that."
While skilled in all facets of goalkeeping, Patton's booming laser-like kickouts have become his trademark. In the quarter-final against Tyrone in teeming Ballybofey, he arrowed a huge kickout perfectly into the path of an advancing Peadar Mogan deep in the Donegal forward line which led directly to Michael Lagan's goal.
With obvious skill off the boot, does he ever thinking about replicating some of his goalkeeping contemporaries like Cluxton, Niall Morgan and Rory Beggan by adding free-taking to his repertoire?
"The local ones up here would know, frees wouldn't be my strong point!" he jokes. "I tried a few for the club, there was one last year to level it up against Naomh Chonaill in the last kick of the game.
"Whenever you have boys like Michael Murphy, Ciaran Thompson, Michael Langan, boys who can kick frees off the ground are quite good at them, it's something I'm happy to leave them to because they're so successful and so good at it. Obviously if I was ever called upon to kick one, I would definitely oblige and I'd be happy to try my best, but it's one of those things that takes a lot of work and practice to get right"
When the pandemic struck this year and GAA was wiped out, Patton realised just how big a part the game has become in his life. While he had begun a new career as a Garda and been stationed in Navan, a void still remained however with the absence of Gaelic football as the season was suspended due to Covid-19.
Returning to the field of play then at the end of summer and getting up and running with Donegal again has been an illumination.
"Whenever football was taken away so suddenly, I was standing there thinking 'What am I going to do now?" when it wasn't there. I didn't know what to do. To be able to go back out and play, it maybe gave you the hunger for the game and be able to go back at it.
"We had the opportunity to switch off and think that the football wasn't going to go ahead, but we always kept it positive mentality that we'd get the chance to get out and get playing," says Patton. "We got back in and got training in September, and it was nice to get in and play football. I'm just embracing every challenge that comes my way.
"Once you really see how fickle it can be taken away, whenever you get the opportunity to go out there again and take the opportunity by the scruff of the neck. You just have to enjoy yourself."
Patton's rapid rise to one of Gaelic football's top goalkeepers are certainly testament to taking the opportunities that come your way.