GAA Clubs awarded Joe McDonagh Foundation Medals in 2022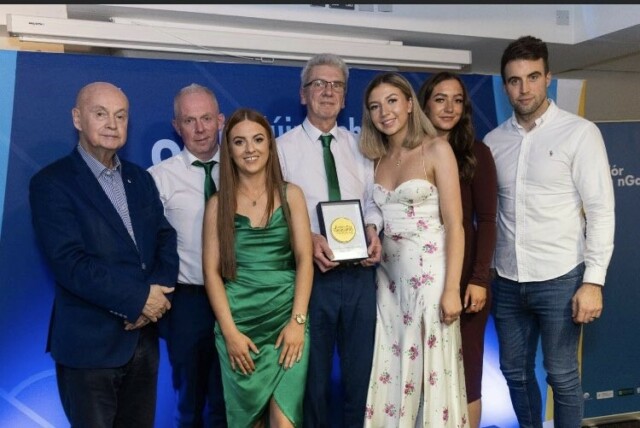 Boinn na Fondúireachta Bronnta ar Chlubanna CLG
Ar 2ú Nollaig, 2022, bhí oíche bhronnta na Fondúireachta ag Glór na nGael agus ag an CLG i bPáirc an Chrócaigh. Bhí Ambasadóir Gaeilge CLG, Paul Conroy agus Cathaoirleach Ghlór na nGael i láthair ar an oíche leis na boinn a bhronnadh ar na clubanna iontacha seo. Bhí baill Choiste Náisiúnta n gaeilge agus baill Ghlór na nGael féin i láthair chomh maith.
Caithfear obair na Fondúireachta a mholadh go crann na gréine. Ba mhaith le CLG Uladh comhghairdeas ó chroí a ghabháil leis na clubanna ó gach cearn den tír a raibh bonn bronnta orthu, go háirithe clubanna Uladh a léiríonn ceannaireacht agus dílseacht ina gcuid oibre ar son na teanga.
Bronnadh bonn óir ar Thoigh Chonnachta, An Dún mar chuid den ócáid seo, agus caithfear obair an chlub seo a mholadh go hard. Comhghairdeas libh, agus tá bród orainne as bhur n-éachtaí.
See below the list of Ulster clubs awarded medals as part of Glór na nGael's Joe McDonagh Foundation to recognise efforts and successes in promoting and using An Ghaeilge within our GAA clubs.
Féach thíos ar liosta na gclubanna ón chúige a fuair bonn mar chuid d'Fhondúireacht Sheosaimh Mhic Dhonncha 2022:
Bonn Óir / Gold Medal:
Bonn Airgid / Silver Medal:
Droichead Mhaigh Eo, An Dún
Eoghan Rua, Cill Chua, An Dún
Ard Ghlais, An Dún
Lámh Dhearg, Aontroim
Ruairí Óg CLG, Bun Abhann Dalla, Aontroim
Raonaithe na Croise CLG, Ard Mhacha
Tír na nÓg CLG, Aontroim
Roibeard Eiméid CLG, Sleacht Néill, Doire
Naomh Columba CLG, Gleann Cholm Cille, Dún na nGall
Éire Óg CLG, An Charraig Mhór, Tír Eoghain
Bonn Cré-umha / Bronze Medal:
An Craobh Rua CLG, An Bearach, Tír Eoghain
Conn Mag Aoidh, Aontroim
Mac Uílín CLG, Aontroim
Oirthear Bhéal Feirste, Aontroim
Clann Éireann, Ard Mhacha
Na Magha CLG, Doire
Naomh Colm CLG, Baile na Scríne, Doire
Naomh Mhuire CLG, Nua Chongbháil, Doire
Gaeil Fhánada, Dún na nGall
Gaeil Leitir Ceanainn, Dún na nGall
Gaeil Inis Ceithleann CLG, Fear Manach
An Chéad Chumann CLG, An Baile Nua, Fear Manach
Cumann Mhig Uidhir, An t-Iompú, Fear Manach
Uí Chonaill CLG Doire Uí Loin, Fear Manach
Seamróga Tigh Mór, Fear Manach
Naomh Pádraig CLG, Domhnach, Fear Manach
Naomh Pádraig CLG, Domhnach Mór, Tír Eoghain
An Clochar Éire Óg, Tír Eoghain
Piarsaigh an Ghallbhaile, Tír Eoghain