First Ulster GAA For ALL football blitz held in Warrenpoint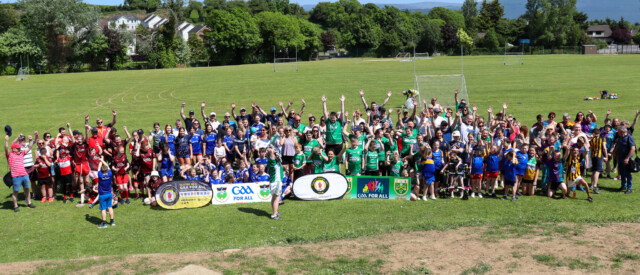 St Mark's High School Warrenpoint was the venue on Saturday for the first ever GAA For ALL football blitz in Ulster to be hosted by an All-Star team – Warrenpoint All Stars.
Teams participating were St Marys Aghagallon All-Stars, Warrenpoint All-Stars, Derry All-Stars, Crossmaglen All-Stars and Donaghmore All-Stars
The sun was shining in Warrenpoint as teams started to arrive in all their colourful club kits. The atmosphere started to build and it wasn't long before the games got under way on all four pitches.
On the day the focus was to have as much fun as possible, showcase skills and enjoy competing against the opposition. The coaches were also excellent in their roles on the day, constantly encouraging all players to kick, bounce, pass and score.
It was the players who stole the show though. The determination and endeavour from each and every player to do their best was great to see and some excellent skills were displayed, highlighting the great work that their coaches and parents have been doing over the many months of training. Derry 16+ All-Stars even took on Warrenpoint senior men's team and came out on top in a very exciting game on the big pitch.
Warrenpoint All-Stars then presented every player from every team a medal followed by music and picnics scattered across the sun-kissed park.
It was a fantastic achievement for the Warrenpoint club, and massive thanks to Declan & Helen Carvill and their committee and band of volunteers for delivering an excellent event.
GAA FOR ALL and especially the All-Star programme is seeing massive growth in Ulster at present and is aims to get bigger and better over the next few years. The Croke Park activity day is set for 17th August, and with over 200 All Stars already registered to attend, it is set up for another great experience for the clubs and their families.
If anyone wishes to know more about Ulster GAA's disability inclusion programmes, please contact shane.mccann.ulster@gaa.ie – 07920528793, or, paul.callaghan.ulster@gaa.ie – 00353 86 806 6166