Ulster Hurlers defeated by Munster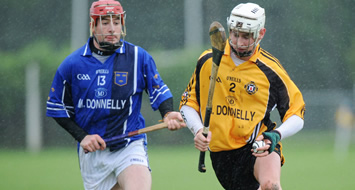 M Donnelly Inter-Provincial Hurling Championship:
Munster 2-14 Ulster 1-12
Munster withstood a strong second-half fightback to defeat Ulster in Saturday afternoon's M Donnelly Interprovincial Hurling Championship semi-final at a rain-lashed Fermoy venue.
Reigning champions Munster had their hopes boosted from an early juncture in this game as they registered two goals inside the opening 12 minutes.
The first came from Eoin Kelly in the third minute when the Waterford man's poorly-struck '65 skidded on the surface and deceived Ulster netminder Ryan McGarry. The second arrived in the 12th minute when good work by Andrew O'Shaughnessy created the opening for Tipperary's Seamus Callanan to whip a fierce drive to the net.
Those scores pushed Munster 2-0 to 0-3 ahead and they forged further in front before the interval with Kelly and Callanan both helping themselves to points. Yet Ulster kept in touch with Down forward Paul Braniff in superb form from frees and at the midway point there were just those two goals between the sides, 2-5 to 0-5.
In the second-half Munster burst from the blocks to move 2-8 to 0-6 after 40 minutes and the match looked a done deal. But Ulster mounted a powerful rally to throw the game back in the melting point. Antrim duo Aaron Graffin and Neil McGarry both starred in defence while Braniff continued to score freely up front.
After Braniff hit three points, Munster were rocked when Ulster goaled in the 45th minute after Shane McNaughton whipped a loose ball to the net. That left it 2-8 to 1-10 as the tie headed down the stretch.
Yet it was Munster who regained the initiative to close the game out in a formidable fashion. Clare duo Tony Carmody and Brian O'Connell struck two points apiece and with substitute Paul Kelly also impressing, Munster powered ahead on the scoreboard. They ran out five point winners to qualify for next Saturday's final against Leinster.
Scorers:
Munster: E Kelly 1-5 (1-1 '65, 0-4f), S Callanan 1-2, T Carmody, B O'Connell 0-2 each, N Gilligan, C Naughton, P Kelly 0-1 each.
Ulster: P Braniff 0-8 (0-6f, 0-1 '65), S McNaughton 1-0, K Stewart, K Hinphey, K McKeegan, P Shields 0-1 each.
MUNSTER: B Cummins (Tipperary); C O'Brien (Tipperary), P Curran (Tipperary), S Hickey (Limerick); B Bugler (Clare), G Quinn (Clare), D Fanning (Tipperary); B O'Connell (Clare), T Kenny (Cork); T Carmody (Clare), S Callanan (Tipperary), C Naughton (Cork); A O'Shaughnessy (Limerick), E Kelly (Waterford), N Gilligan (Clare).
Subs: B O'Connor (Cork) for Gilligan (inj) 25, P Kelly (Tipperary) for Naughton 47, B Corry (Cork) for Callanan 55, D O'Grady (Limerick) for O'Connell 60.
ULSTER: R McGarry (Antrim); A Graffin (Antrim), N McGarry (Antrim), M Kettle (Antrim); G Clarke (Down), L Hinphey (Derry), J Campbell (Antrim); A Savage (Down), K McKeegan (Antrim); K Stewart (Antrim), K Hinphey (Derry), P Braniff (Down); S McNaughton (Antrim), B McGourty (Down), P Shields (Antrim).
Subs: N McManus (Antrim) for Kettle 15, P McCormack (Armagh) for McGourty 36, M Craig (Derry) for McKeegan 48.
Referee: Anthony Stapleton (Laois)