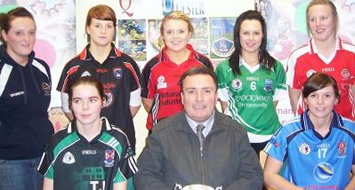 Ulster President Gerry Doherty was on hand at the Ulster Council offices, Armagh on Monday evening to launch the 2010 Dowd Cup competition.  In a bid to make the competition more competitive and to help the development of inter-county and college football in Ulster the competition is now open to a number of Ulster counties as per the Dr McKenna Cup.
Representatives of the seven teams participating in the 2010 competition were present at the launch where the draw for the competition was made. Two groups were decided upon and each team will now play each other. The top two in each group will play in semi finals planned for the 30th January and the final will take place the following day Sunday 31st January.  As is traditional for the Dowd Cup weekend, the McNally Plate will also be contested on 30th & 31st Jan by the other college teams including UU Magee, UU Coleraine, St Mary's and UUJ 2nds team.  A great weekend's football is now guaranteed!
The draws have resulted in UUJ, Antrim, Fermanagh and Down in Group 1 and Queens, Armagh and Tyrone in Group 2.  Fixtures will be compiled and sent out to the respective colleges and counties before Christmas with the first games taking place on Sunday 10th January.
Speaking at the launch and draw Ulster President Gerry Doherty said, "This is the first time counties have been involved in the Dowd Cup Competition and I hope it will be beneficial to both themselves and the universities. The new format should act as great preparation for both the O Connor Cup and the Bord Gais Energy National League and add a greater element of competition to their pre-season preparations."
Under the rules of the competition if a player is eligible to play for both her university and her county she must play for her college team.  This will allow county managers to extend their panel for the competition and trial a wider range of players who could prove to be vital to their squads later in the year.
Present for the draw were Maebh Moriarty (Armagh), Cathy Donnelly (Tyrone), Sinead Mc Cleary (UUJ), Ciara O Higgins (QUB), Niamh Lennon (Down), Patricia Melanophy (Fermanagh) and Helen Ward (Antrim).
Further information is available from Ulster Ladies HEC Secretary Sonya Mc Gaw on 028 3751 0065 or email ulsterladieshec@hotmail.co.uk