2011 Dr McKenna Cup Fixtures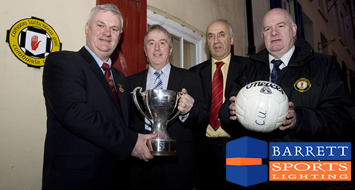 The details for the 2011 Barrett Sports Lighting Dr McKenna Cup were released today following a photo-call at the Ulster GAA Headquarters, Armagh.
The 2011 competition will be sponsored again by Barrett Sports Lighting and Managing Director, Martin Barrett stated:
"Barrett Sports Lighting is delighted to once again sponsor the Dr McKenna Cup. This is a competition where the future county stars can challenge themselves against current county stars in competitive action. It provides Counties with meaningful preparation for the National Football League, and we are eagerly looking forward to the action getting underway on 8th January next year."
Ulster GAA President Aogan O Fearghail paid tribute to Barrett Sports Lighting for their second year as title sponsors:
"The Ulster GAA is absolutely delighted to once again be working with Barrett Sports Lighting in the promotion of our Dr McKenna Cup for 2011. The Dr McKenna cup is historically very significant in this Province and we are very proud of the status it enjoys today with Team Managers, Players and Administrators in Ulster. The provision of television standard floodlighting in our Main County Grounds is now absolutely necessary to ensure that all games can be played in January and we have Barrett's to thank for many of those systems".
"2011 will provide more history for the Ulster GAA when we will for the first time host an Inter County fixture on the new state of the art third generation synthetic pitch in Breffni Park, Cavan. The game between Cavan and Queens will take place on Saturday 8th January."
"Given the fact that we have five new Inter County Football Managers the competition will give them their first competitive experience in their new jobs and we wish them well for the Dr McKenna Cup and the year ahead. Given Donegal are defending their title and Tyrone are our Ulster Champions we are particularly looking forward to the clash in Omagh on the opening weekend. We hope that supporters come out in big numbers to support their teams and enjoy our first GAA action of 2011 and get a glimpse of the new talent in County and University sides ahead of Sigerson Cups, Leagues and Championships".
The following groups and fixtures have emerged:
All Sunday games at 2.00 p.m.: All midweek games at 7.30 p.m unless otherwise stated (Extra time to be played in Semi Finals & Final)
Section A: UUJ, Fear Manach, Tír Eoghain, Dún na nGall
Section B: QUB, An Cabhán, Doíre, Muineachán
Section C: Naomh Mhuire, An Dún, Ard Mhacha, Aontroim
Saturday 8th Jan: Round 1
Section A (7.00pm)
UUJ v Fermanagh at Brewster Park
Section B (7.00pm)
QUB v Cavan at Kingspan Breffni Park 3G
Section C (7.00pm)
St. Mary's v Down at Pairc Esler
Sunday 9th Jan: Round 1:
Section A
Tyrone v Donegal at Healy Park
Section B
Derry v Monaghan at Celtic Park
Section C
Armagh v Antrim at Athletic Grounds
Saturday 15th Jan: Round 2:
Section A (7.00pm)
Donegal v UUJ at MacCumhaill Park
Section B (7.00pm)
Cavan v Derry at Kingspan Breffni Park
Section C (7.00pm)
Down v Armagh at Pairc Esler
Antrim v St. Mary's at Casement Park
Sunday 16th Jan: Round 2:
Section A
Fermanagh v Tyrone at Brewster Park
Section B
Monaghan v QUB at Clones
Wednesday 19th Jan: Round 3:
Section A
UUJ v Tyrone at Healy Park
Donegal v Fermanagh at MacCumhaill Park (8.00pm)
Section B
Monaghan v Cavan at Inniskeen
Derry v QUB at Celtic Park
Section C
Antrim v Down at Casement Park
Armagh v St. Mary's at Athletic Grounds
22nd / 23rd Jan: Semi Finals:
(1) Winner of Section C v Winner of Section B
(2) Winner of Section A v 4th Placed Team
29th Jan: Final: 1 v 2