Comórtas Peile na Gaeltachta 2012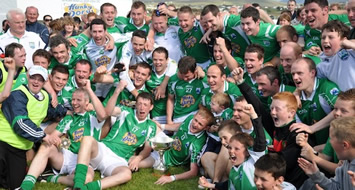 Imríodh Comórtas Peile na Gaeltachta I Machaire Gathlán,Gaoth Dobhair,Tír Chonaill le linn deireadh seachtaine na cincíse. Bhí an Ghaeilge,cultúr na  Gaeltachta is na cluichí Gaelacha go mór chun cinn I rith an deireadh seachtaine. Tháinig na mílte chun na himeachtaí ó na Gaeltachtaí ar fud na tire agus ba mhór an t-ard mholadh a bhí acu do lucht eagraithe an chomórtais. Aimsir millteanach maith a bhí ann, cluichí den scoth is fáilte chroíúil ó chlub CLG Ghaoth Dobhair. Ón foscailt oifigiúl oíche de hAoine go dtí deoreadh an cluiche ceannais sinsir de Luain,bhí atmasféar ghaelach ar dóigh ann.
Tháinig foirne is lucht tacaíochta ó na Gaeltachtaí ar fad agus bhí canúint na Muimhnigh is glór na gConnachtaigh le cluinstin I measc blas na hUltaigh. Tháinig na Laochra ón cheathrún Gaeltachta I mBéal Feirste chomh maith leis na Gaeil óga Bhaile Atha Cliath agus ar ndóigh bhí gaeltacht Rath Chairn I láthair fosta.  Bhi iar Uachtarán CLG Seosamh Mac Donnachdha I láthair chomh maith le Uachtaran Comhairle Uladh CLG Aogán O Fearghail. Tháinig Aire na Gaeltachta Dómhnaill Mc Fhionnghaile TD agus Uachtarán an Oireachtais Míchéal Mc Giolla Easpaic agus bhí Radio na Gaeltachta agus TG4 ann le linn an deireadh seachtaine ar fad. Bhí  Cathaoirleach Chomórtais Peile na Gaeltachta  Séan Ó hEarcáin an sásta leis an chomórtas I mblian is thug sé buíochas mhór do chlub Ghaoth Dobhair is a gCathaoirleach Seán Shéamais O Fearraigh agus do Josie Doohan Cathaoirleach Coiste Dhún na nGall.
Bhí ard chaighdeán ins na cluichí agus imríodh na cluichí gan fadhb nó drochfhocal. Ar deireadh bhí lúchair is gliondar croí ar an fhoireann bhaile,Gaoth Dobhair nuair a bhain said an cluiche ceannais shinsir agus Corn an Aire. Ní raibh ach pointe amháin idir Gaoth Dobhair agus Cill tSéadhna as Muigh Eo ag an deireadh ach nuair a shéid an reiteoir Martin Mc Erlean as Doire an fhéadóg deireannach ardaíodh ghlór ón lucht tacaíochta a bhí le cluinstin ar Oiléan Thoraí.  Bhuaigh An Tearmainn an comórtas shóisear ar Naomh Náile agus sa Chomórtas Peil na mBan bhí bua eile ag Gaoth Dobhair ar Cill Chomáin.  Ainmíodh Rachel Ní Fhearraigh as Ghaoth Dobhair mar Chailín Ghaelach an Chomórtais agus bhí cúis ceilúradh mhór eile ag an chlub.
Ag deireadh an Chomórtais dúirt Uachtarán Chomhairle Uladh, Aogán O Fearghail                                   " Léiríonn an comórtais seo an dlúth bhaint atá idir an Ghaeilge is na cluichí Gaelacha. Gan an Ghaeilge ní fiú an comórtas seo.Tá mé fíor bhuíoch do chlub Ghaoth Dobhair as an chomórtas iontach mhaith a dèagraigh said agus go háirid as an méid Gaeilge a bhí le cluinstin achan áit. Tá an comórtas seo slán agus táim ag súil go neartóidh sé sna blianta romhainn. Maith sibh muintir na Gaeltachta, pobal na Gaeilge,clubanna CLG agus arís mile buíochas do chlub agus pobal Ghaoth Dobhair."
The 2012 Comórtas Peile na Gaeltachta has been widely lauded as one of the best to date. Meticulous arrangements, excellent games, huge crowds (over two thousand at the final) and the Irish Language as the main tongue spoken throughout the weekend. This competition powerfully demonstrates the strong link between the GAA and the Irish Language. From the opening ceremony to the final whistle Irish language and Irish culture was strongly to the fore throughout the weekend.
The host club, Gaoth Dobhair, received much praise for their first class arrangements and strong commitment to GAA , language and culture. Ulster teams dominated the finals with the Gaoth Dobhair ladies winning the ladies final over a spirited Cill Chomain from Mayo. In the men's junior final An Tearmann from Donegal defeated neighbours Naomh Náile. The senior final between Cill tSéadhna from Mayo and the hosts Gaoth Dobhair was an excellent game with the host club winning by one point.
This was a tremendous 2012 Comortas Peile na Gaeltachta and did much to strengthen to language and its wider use in society. The Ulster Council of the GAA are strong promoters and supporters of the Irish language and this was also acknowledged throughout the weekend. This is the second year in a row for an Ulster/Donegal team to win the competition, Gaoth Dobhair following on from Cloich Cheann Fhaola`s success last year. The importance Gaeltacht clubs attach to this competition was very much in evidence as the presentations were made by Aogán O Fearghail, President Ulster Council GAA along with Dinny Mc Ginley TD, Minister for the Gaeltacht. The excitement and delight of the hosts filled the air around Machaier Gathlán and the respect for language and culture was certainly strengthened by the GAA this weekend .