Cool Tyrone see off Armagh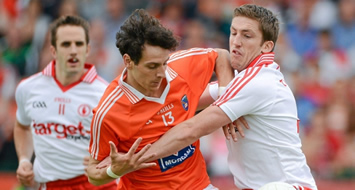 Ulster GAA Football Championship Quarter-Final:
Armagh 1-13 Tyrone 0-19
Tyrone produced an impressive finish to see off Armagh at the Morgan Athletic Grounds following a high quality Ulster quarter-final.
Mickey Harte's men led by three points after an excellent first half full of classy scoring, and when Kevin Dyas was sent off for Armagh midway through the second half, it looked like Tyrone would comfortably see out the game.
Armagh kept battling though, and somehow managed to get back level despite the numerical disadvantage, but Tyrone showed all their experience in the final few minutes to hit points when it mattered, and move into the semi-finals.
Martin Penrose hit 0-8 for Tyrone in an extremely hard working display, while Jamie Clarke was Armagh's main scoring threat, hitting 0-5, four of them from play.
Tyrone led 0-11 to 1-5 at the interval, following a first-half full of brio and verve.
Both sides took some fine scores early on, but it was Tyrone who were the sharper of the two teams, hitting nine points from play in the opening 35 minutes.
Armagh struck the first major blow on 10 minutes, Aidan Forker finishing sweetly to the net after a good move from the Orchard men, to leave them 1-1 to 0-2 ahead.
Tyrone looked fluent though, and Colm Cavanagh complemented his dynamism around the middle with two fine scores, along with efforts from Owen Mulligan, Penrose and Peter Harte to put Tyrone 0-6 to 1-2 ahead after 16 minutes.
Then followed a particularly high quality period, when both sides flashed over a flurry of points.
The elusive Clarke was a major threat for Armagh, and he hit two excellent scores in that period to keep his side in touch.
Tyrone had a bit more in attack though, and a brilliant point from Stephen O'Neill was added to by Penrose to edge them two ahead, before corner back Dermot Carlin completed the first half scoring with an inspirational point from distance.
Armagh were dealt a blow at half-time when Aaron Kernan was forced off with a hamstring injury, but his replacement Gavin McParland made an immediate impact.
The substitute hit two points shortly after coming on, and along with Clarke's third point, it brought Armagh back into it.
However, Penrose had kept Tyrone ticking over with a few frees, and when he clipped over his sixth point of the day on 55 minutes following an O'Neill goal chance, Tyrone led 0-15 to 1-9.
The tide seemed to be going against Armagh following that brief revival, and when Kevin Dyas picked up a second yellow with little more than 10 minutes left, it made their task all the harder.
However, Armagh showed great resolve and got back level when Clarke and Mallon (2) hit over three frees in the space of three minutes.
But just as Armagh looked like they might grab victory, Tyrone showed all their class. Peter Harte put them back in front with a superb score, and further points followed from O'Neill and Penrose to guide the Red Hand County to victory.
Scorers for Armagh: J Clarke 0-5 (1f), A Forker 1-1 (1f), B Mallon 0-4 (4f), G McParland 0-2, K Dyas 0-1
Scorers for Tyrone: M Penrose 0-8 (5f), S O'Neill 0-2, O Mulligan 0-2 (1f), P Harte 0-2, C Cavanagh 0-2, Joe McMahon 0-1 (1f), M Donnelly 0-1, D Carlin 0-1
Armagh: P McEvoy; A Mallon, B Donaghy, D McKenna; A Kernan, C McKeever, F Moriarty; K Toner, M Mackin; A Forker, K Dyas, A Duffy; J Clarke, B Mallon, C Rafferty. Subs: P Duffy for D McKenna (19), G McParland for A Kernan (HT), J Hanratty for A Forker (48), C Vernon for F Moriarty (55), J Kingham for M Mackin (58).
Tyrone: P McConnell; A McCrory, Justin McMahon, D Carlin; C McCarron, C Gormley, S O'Neill; Joe McMahon, C Cavanagh; R McNabb, M Donnelly, P Harte; M Penrose, S O'Neill, O Mulligan. Subs: M Murphy for Justin McMahon (HT), N McKenna for O Mulligan (63), R McMenamin for C McCarron (68), P McNeice for R Donnelly (70)
Attendance: 16,418