Fermanagh claim U21 Hurling Shield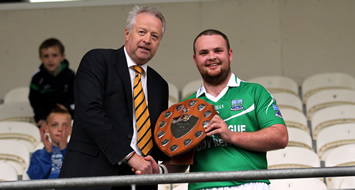 A well known British politician made the observation that a week is a long time in politics. Seemingly a fortnight for Fermanagh hurlers is a long time in hurling, for last Wednesday 20th June, 2012 , the Fermanagh under 21 hurlers paid Tyrone back by lifting the Ulster under 21 Hurling Shield.
Two statistics sum up this game's opening half, Tyrone leading by 7 points to 5 points for their Fermanagh opponent at half time. But below the scoring radar thy battling Erneside defenders forced the Red Hand attackers into a thumping 9 wides to Fermanagh's modest 3 wides. With advantageous wind at their backs Tyrone raced into 2 point lead courtesy of their mid-fielder Aidan Kelly. Eventually Fermanagh replied with a point from play by mid-fielder J.P. McGarry, and a free and second point by mid-fielder John Duffy. Creating this game's first draw, and the match's activity stepping up a gear by both contestants, which saw a point a piece from firstly Fermanagh's J.P. McGarry, and then in quick reply Tyrone's Damian Casey pucked over from a free to bring about this game's second draw of 3 points a piece.
With the match now entering its second quarter, which saw the Red Hands race into two point lead from firstly Gerard Gilmore, and then teammate Damian Casey clipped over both his second and third points. And his sides fifth and sixth point from play and a free. Tyrone's full forward Tommy Lowe completed his side's opening scoring, with his team's seventh point from play. Tyrone's lead would have being greater, but the relentlessly tackling Fermanagh defence, with right half back Daniel Teague and Francie McBrien forcing their opponent attackers into thumping in many hurriedly taken pucks.
Then with just over five minutes to the game's interval and then the easily more dominant Tyrone side went for their neighbours jugular, and mounted a well coordinated attack on they Fermanagh goal, alas for young Dwayne McPhillip's with the number "1" emblazed on the back of his jersey cipated this Tyrone scoring foray and narrow the angle for which the Tyrone attacker would launch his green flag slithor. However the Erneside goalie stood up manfully to this strike and safely blocked the incoming ball, which then landed back down mid-field. This was as close that the Red Hands came to dominating this game. With moments to half time the visibly resurgent Fermanagh side didn't just hang on to the game's interval, but narrowed the scoring difference, with two additional points from their full forward Shea Curran.
As the half time whistle blew, the outcome of this increasingly intense match was very much in the balance.
Half time Score
Fermanagh 0-5 Tyrone 0-7
As in this game's opening moments it was the still dominant Tyrone side, who registered the closing half's first score with an eight point for the Red Hands by Damian Casey for his fourth point of the match. However in contrast to this game's opening quarter, it was the Fermanagh side that replied, with their sixth point from play by Shea Curran. Yet again as in the match's opening Tyrone attacker's attempted to point the game beyond their Fermanagh opponents reach by mounting a route "1" attack on the Erneside goals, and as in previous encounter they stymied by the-man-of-the-match Dwayne McPhillip's who prevented an almost first Red Hand goal. They latter's defence duties were successfully shared by every one of the six backs, who as in the game's first the Tyrone attack into striking aimless wides.
At the opposite end of the pitch it was the turn of from J.P. McGarry, with a further Fermanagh minor score and from play. However they Fat Lady hadn't appeared on stage, never mind begin to sing. There was still a scoring sting in the Red Hand, and saw they Tyrone side puck and pop over their last two points from their mid-fielder Tiernan Morgan.
Though there was over ten minutes to full time, the once dominant Red Hand side failed score any further points. Their major strategy of scoring goals in each half had come and dismal end. They less ambitious strategy of Messrs O'Donnell and Johnston of going for the more modest points was paying off big time, with the Ernesiders last three match wining points from firstly John Duffy with two points from a free and from play. However it was left to Fermanagh's defender Daniel Teague to claim his first and his side's last score, a final match winning point.
As the final whistle blew all thoughts of losing a match in Croke Park were quickly banished by an unmistakably Fermanagh winning team, who became proud winners of the Ulster Under 21 Shield of 2012.
Final Score
Fermanagh 0-12 Tyrone 0-10
Fermanagh: Dwayne McPhillip's, Cathal Caulfield, Nial Carson, Thomas Cleary, Daniel Teague (1 pt.), Francis McBrien, Cather McElroy, John Duffy (4 pts.), John Paul McGarry (2 pts.), Rory Porteous, Ryan Hyde, Chris Corry, Ciaran Corrigan, Shea Curran (5 pts.) & Marin Beggan.
Subs: Oisin Boyle for Chris Corry, Nial Lunney for Rory Porteous, Lloyd Harte, Declan O'Brien, Joseph Gavin, Ryan Maguire & Mark Curry.
Managers: Rory O'Donnell & Brian Johnston.
Tyrone: Connor McElhatton, Aidan McTernan, Rory Devlin, Brendan Begley, Sean Kelly, Connor McNally, Eamon Duffin, Aidan Kelly, Ternan Morgan, Liam Armstrong, Damian Casey, Dermott Begley, Thomas Lowe & Byran McGurk.
Subs: Mark Mullan, Ciaran McCrudden, Paddy McKillion, Duibhir Marshall, Kevin Hughes, Patrick Quigg, Emmett & Ryan McTernan.
Manager: Tom Magill.
Report: Malachy McRoe