Team aim to promote GAA in Lithuania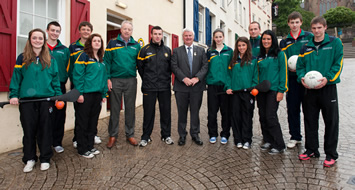 Ulster GAA will be represented for the very first time at the 5th Annual TAFISA World Sport for All Games to be held in Siauliai, Lithuania, from 5th to 11th July 2012.
Ulster GAA will be represented by students from St Dominic's Girls School in Belfast and St Pius School in Magherafelt. Ulster GAA Vice President Martin McAviney will lead the team to Lithuania which will include eight students, two teachers and Ulster GAA Coach and Regional Development Officer Shane McCann.
Speaking at the official announcement Ulster GAA President Aogán Ó Fearghail said, "Ulster GAA is delighted to announce our involvement in the 2012 TAFISA World Sport for All Games and it is a great honour for the lucky students selected to represent their school, their family and their province at these world games.
"I have no doubt that the eight students from both St Dominic's and St Pius Schools will represent this Province to a very high standard."
These students were selected as they assisted Ulster GAA with the schools project delivered at the 2012 Ulster Coaching Conference. Over a number of months prior to the conference the students worked on a number of topics with Ulster GAA including sport science, fitness assessment, video analysis and nutrition. The students attended the conference to display their work and answered questions from delegates on the day.
Ulster Vice President Martin McAviney will lead the delegation to Lithuania, he said, "The trip will be used to promote the GAA's new recreational games Peil Abú and Camán Abú.
"Peil abú is played football based using tags and Camán abú is ground hurling. The rules for both are adapted to help prevent heavy physical contact so anyone from the age of 8 upwards can play and teams can be mixed gender. The group will provide demonstration of the games many times during the week to people from all over the world and hopefully get them to have a go.
"I very much look forward to this trip and wish the Ulster representatives all the best in these World Games."
TAFISA (The Association For International Sport for All) is the leading international Sport for All association, with over 200 members in 130 countries from all continents. Every four years, TAFISA holds its World Sport for All Games – a vibrant and entertaining experience, offering a unique opportunity for the public to discover the traditional and contemporary games and sports of cultures from around the globe. The Games has grown from humble beginnings in Bonn, Germany, in 1992 with only 620 participants from 33 countries, to a spectacular world event. The most recent Games in Busan, Korea, in 2008 attracted over 10,000 participants from more than 100 countries! Between Bonn and Busan, the Games were also held in Bangkok, Thailand and Hanover, Germany.
Everybody is welcome to attend the Games, and in particular those groups who wish to present their traditional game or sport.