Phoenix Ulster GAA Elite Academy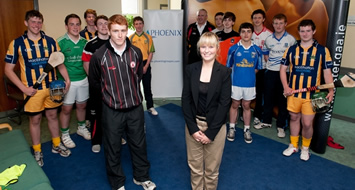 The 2012 Phoenix Ulster GAA Elite Academy is underway at the University of Ulster, Jordanstown for promising young GAA Gaelic Footballers and Hurlers.
The Phoenix Ulster GAA Elite Academy has brought together Ulster's most promising young GAA athletes for a two day residential at the University of Ulster's Jordanstown campus. The Academy aims to recognise and develop the skills and abilities of 90 young players who have impressed playing for their club, school or county underage teams in both Gaelic Football and Hurling.
The Phoenix Elite Academy encourages the young players to look after their health and wellbeing while developing their skills in Gaelic Games. Areas such as nutrition and hydration, fitness testing, functional movement analysis, skill development and flexibility will be some of issues tackled at the academies.
One of the key highlights of the Phoenix Academy will be the opportunity for the lucky 90 players to be mentored by a high profiled player, who will have the experience of coming through an Ulster GAA Elite Program – this year the football special guest was Peter Harte from Tyrone and the hurling guest speaker was Neill McManus.
Ulster GAA President Aogán Ó Fearghail stated, "We are delighted that the 2012 Phoenix Elite Academy is well underway as it will put the spotlight on the stars of the future. Through the Academy these players, 45 Gaelic Footballers and 45 Hurlers, will develop their skills and abilities working with Ulster's finest coaches and mentors.
"We hope through the Phoenix Elite Academy that the stars of the future, from all nine counties in Ulster, will be inspired to achieve the highest they possibly can with their club, schools, universities and county.
"The players will also have the opportunity to pull on the Ulster Jersey as they will represent their Province in an inter-Provincial game."
Louise McManus from Phoenix Natural Gas, said: "Phoenix takes its corporate social responsibility very seriously and we have a long history of supporting young people. We feel that our young people need all the help they can get to help them reach their full potential, whether that be through the arts, education or on the sports field. We are delighted that our award-winning community programme now includes a partnership with the GAA".
Past Academy participants include Michael Murphy (Donegal), Peter Harte (Tyrone), and hurler Neil McManus (Antrim), to name but a few.