Championship Attendances Up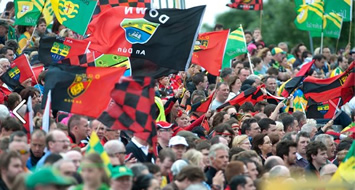 Ulster GAA President Aogan O'Fearghail highlighted Ulster GAA's delight at the increase in attendance figures for the 2012 Championship. Overall 124,884 supporters attended the Ulster GAA Senior Football Championship – up nearly 15,000 from 2011, representing a 13% increase. The Ulster GAA Senior Hurling Championship also showed a slight increase in attendances figures compared to 2011. This news follows a year where the Provincial Council has seen attendances increase significantly in all competitions; both the Ulster GAA Club Championship and Ulster GAA Power NI Dr. McKenna Cup seen an attendance increase of approximately 20% while the Ulster GAA Under 21 Championship attendances were up 15%. The 34,696 sell out attendance at the Ulster GAA Senior Football Final represents the largest attendance at an Ulster GAA Final in three years.
The Ulster GAA President highlighted that Ulster GAA had conducted a review following the 2011 Championship and put in place a new strategy for the marketing and promotion of our games:
"Following a review of the 2011 Ulster GAA Championship we conducted focus groups and workshops with GAA members and supporters in addition to the members of the media. This provided feedback and highlighted areas that we had to address ranging from access to tickets to admission prices. A complete review of admission prices saw a reduction for all competitions, retaining the Under 16 free admission policy and the introduction of the successful Power NI Dr. McKenna Cup Season Ticket. All of these initiatives when coupled with attractive, competitive and colourful games really does prove the GAA message that nothing beats being there.
"To support our Marketing and IT Committee we also established a staff Communications and Marketing team in September who have done outstanding work over the past year in the promotion of our games, activities and the Ulster GAA brand, I wish to thank the Council Director Dr. Danny Murphy, PRO Oliver Galligan and the Head of Strategy & Public Affairs Ryan Feeney who lead this work supported by Damian Kelly, Sharon Haughey, Stephen Donnelly and Michelle McAleer. I also wish to highlight the input of the Ulster GAA marketing partners Lairdesign and in particular Niall Laird for all the work and ongoing support they provide for Ulster GAA. Ulster GAA has also invested heavily in expanding our social media channels and this has paid dividends with a significant amount of information being provided using both Twitter and Facebook and the feedback we have received from our online competitions and initiatives has been very positive.
"I thank our County officers in particular the County Secretaries and PRO's all of whom have fully supported the Ulster GAA Marketing strategy. Finally I want to thank all our supporters who attended games throughout the Ulster GAA Championship. We have outstanding support from our members and uniquely 85% of all the revenue raised from this years Championship will again go back to Counties, Clubs and Communities. Ulster GAA is proud to be a significant social, community and economic driver and all of that comes from the excellent support we receive from our members. Following an excellent Provincial Championship I now look forward to an exciting All-Ireland series and wish all Ulster teams still competing the very best of luck and every success."
For media enquires or more information please contact:
Oliver Galligan
pro.ulster@gaa.ie
0 (+353) 87 7951 398