Convery makes it 4 in a row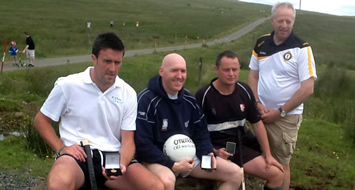 While the underfoot conditions were still very wet, the sun was out as the rescheduled O'Neill's Poc & Cic Fada Uladh events went ahead on Divis Mountain on Saturday 21st July.
Fresh from a Turkish holiday, Derry Poc Fada specialist, Ruairi Convery flew in to Dublin at 8.00am and was striking his first sliothar at 11.30am in the annual event, which he had made his own over the last three years.
Eight competitors participated in the Senior event, including Canice Dowling from the Cualadh Club in Dunlaoighre, Co. Dublin.  Canice was keen to steal away Convery's crown.  Others on the same mission included Kevin Mc Kernan (Antrim), Niall Gallagher, (Tyrone), Conor McKee (Armagh), Stephen Burns (Donegal), Karol Keating (Down) and Declan McGarry (Fermanagh).
The competition was fierce and all competitors found the going tough but in the end the reigning champion proved too strong and consistent for his challengers.  Convery powered his way to victory with a score of 33 pucks.  Mind you Ruairi was pushed all the way by his playing partner, from Antrim, as Kevin McKernan recorded a score of 34 in his first visit to Divis.  In third place was our visitor from Dublin, Canice Dowling.
In the Under 16 competition, we had four competitors who were all new to the location.  Again this was a closely fought contest with the winner Gavin Magee from Tyrone, on a winning score of 48, four shots better than runner-up, Finnen Maguire from Armagh.
Reining Veteran Champion, Antrim's Collie Murphy, lost his crown as Kevin McKernan performed well to shade a close contest winning by a single shot (39) over Armagh's Eamon McKee (40).
In the Camogie events Maura McAuley (54) won the Senior event, while Aisling Magee (53) won the Veteran and Leona Brown (64) edged out Rhea Smyth (65) to claim the Under 16 title.
The inaugural Cic Fada, which was organised as a pilot event, was played out between Derry's James Kielt and Antrim's Sean McGreevey.  The battle ebbed and flowed between these two kicking specialists and came down to the last kick of the event with 'McGreevey' winning by a single kick 50 to 51.  The experience was enjoyed by both competitors and it looks like this event will be on the agenda for future years.
O'Neill's Poc Fada Uladh Results
| | | |
| --- | --- | --- |
| Senior Hurling | Ruairi Convery (Derry) | 33 Pucks |
| Under 16 Hurling | Gavin Magee (Tyrone) | 48 Pucks |
| Veteran Hurling | Kevin McKernan (Antrim) | 39 Pucks |
| | | |
| Senior Camogie | Maura McAuley (Derry) | 54 Pucks |
| U.16 Camogie | Leona Brown (Down) | 64 Pucks |
| Veteran Camogie | Aisling Magee (Down) | 53 Pucks |
O'Neill's Cic Fada Uladh Results
| | | |
| --- | --- | --- |
| Senior Football | Sean McGreevey (Antrim) | 50 Kicks |