Impressive Derry claim Rosina McManus Cup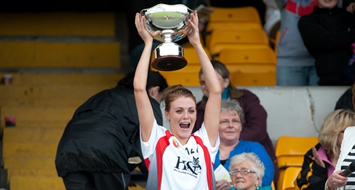 Derry came flying out of the traps in the NWP Recycling Ulster Senior Championship Final to beat Antrim convincingly with a fantastic performance with a scoreline of 6-13 to 0-6. Derry started very strongly and Karen Kielt fired Derry ahead with a goal in the first minute. Derry tagged over further points from Sinead Cassidy, Katie McAuley and Grainne McGoldrick before Samantha McKillen scored Antrim's first point.
When Katie McAuley added a third Derry goal before half time to make it 3-9 to 0-4 after Emma McMullan tagged over a couple of points for Antrim the game was over a as a contest. In the second half Antrim did try hard however their forwards were snuffed out at every opportunity and left big spaces at the back for Derry to exploit.
With 15 minutes to go Derry led by 3-11 to 0-5 as Antrim battled hard to keep their rivals at bay. Derry however remained ruthless up front and Katie McAuley finishing with a hat-trick of goals and Grainne McNicholl adding one for herself. This game was long over as a contest and this left the Oak Leaf girls with muted celebrations at the end of the game, and the Antrim girls wondering what went wrong.
Antrim have fielded this year with a young and inexperienced team in 2012 and no doubt will count this as a learning experience. Derry have added the Ulster Championship to their National League title and could be odd's on to go for a hat-trick in Croke Park in September.