Fermanagh participate in Feile na nGael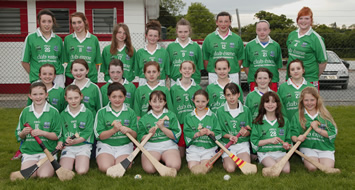 For the first time a Fermanagh Camogie squad participated in the national Feile na nGael competition in Dublin. The team was comprised of girls from all across the county.
It was a huge achievement for Fermanagh to be represented in this competition as Camogie continues to develop in the county. Camogie have received great support from Fermanagh GAA on this initiative. They are currently working closely with primary schools in the county.
Only recently 6 primary school Hurling and Camogie blitzes were run in Fermanagh with over 500 children participating. This has given a huge platform to Camogie Development in Fermanagh and helped greatly in the squads preparation for Feile.
Credit must be given to the enthusiasm of the hard working backroom team who have put such a fantastic squad of players together for the Feile weekend, they are: Estelle Carey, Martina McCusker, Paulinus Leonard, Mick Shine, Robert Rainey, Martin Brady and Emmet Conlon.
For more information on Camogie in Fermanagh or if you would like to become involved please contact:
Yvonne Byrne
Camogie Regional Development Co-Ordinator
Fermanagh, Donegal & Leitrim
Tel: 087 6235855
E-Mail: yvonne@camogie.ie