Monaghan Ladies Create History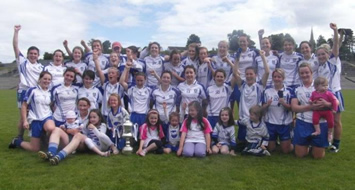 TG4 Ulster Ladies Senior Football Championship Final:
Monaghan 5-25 Donegal 1-8
Monaghan created history on Sunday 15th July, winning their third successive Ulster Senior championship title. Winning the 3 in row was one thing, but it was the manner in which they won that left people talking. They were simply outstanding, subjecting Donegal to wave after wave of attack.
As soon as the ball was thrown up, it was clear what Monaghan's intentions were. Amanda Casey fielded and then found Niamh Kindlon who released Ciara Mc Anespie who weaved through the Donegal defence with goal on her mind. Her shot was just wide but the warning signs were there. Donegal won the kickout and were awarded a free which they took quickly. Geraldine Mc Loughlin got possession and fired over the bar for the opening score of the game. Monaghan's pace was soon obvious as they pushed forward in numbers. Therese Mc Nally who lined out on the half back line was quick to join in the attack combining with Niamh Kindlon and Ciara Mc Anespie to fire over Monaghan's first point. Niamh Kindlon converted a free soon after to put Monaghan into the lead. Donegal couldn't get past Monaghan's half forward line with Ellen Mc Carron fielding superbly from Donegal's kick outs. Catriona Mc Connell and Niamh Kindlon fired over 2 more points to put Monaghan 3 up. Caoimhe Mohan then struck for Monaghan's first goal in the ninth minute. Less than a minute later, Amanda Casey tore through the middle for another to make it 2-4 to 0-1. It as all Monaghan now, as they pushed forward in numbers, their speed and team play a treat to watch. It was Therese Mc Nally who popped up once again to heap misery on Donegal, firing to the net after good work from Ellen Mc Carron. Three more points in succession, 2 from Caoimhe Mohan and one from Catriona Mc Connell extended Monaghan's lead even further before Amanda Casey struck again for her second goal and a nother point from Niamh left the scoreline 4-8 to 0-1 with only 18 minutes of the half gone. Geraldine Mc Loughlin halted Monaghan's run with Donegal's 2nd point of the day, but 4 more points on the trot from Laura Mc Eneaney, Ciara Mc Anespie, Cora Courtney and a free converted by Niamh Kindlon put Monaghan in a commanding lead with only 7 minutes of the half remaining. Geralding Mc Loughlin added 2 further points for Donegal just before the break but Monaghan finished the scoring of the half with 2 fine scores. The first a fine individual point from Ciara Mc Anespie and the final score of the half a moment of magic from the quick thinking Catriona Mc Connell. her cheeky lob catching the unfortunate Donegal keeper out, to leave the half time score Monaghan 5-13 Donegal 0-4
Monaghan continued where they left off in the first half, with 5 unanswered points in the opening 10 minutes, 3 from Caoimhe Mohan and 1 each from Catriona Mc Connell and Ciara Mc Anesespie. Monaghan introduced a number of substitutes but it didn't break their momentum as further points from Catriona Mc Connell, Caoimhe Mohan and Cora Courtney increased Monaghan's lead even further. It took 23 minutes of the second half for Donegal to register their first score. Karen Guthrie fired over the bar and soon after Geraldine Mc Loughlin, after being fouled, took a quick free, firing low and hard into the bottom corner of the net. Roisin Curran fired over another point soon after. Ellen Mc Carron who was outstanding all day, finished with a brace of points to top off what was a top drawer performance. The game was all but over when Geraldine Mc Loughlin fired over 2 consolation points for Donegal. The blower went just as her last point dropped over, and there was jubilation in the Monaghan camp.
A little piece of history was created as Sharon Courtney lifted the Ulster cup for Monaghan's 3rd year in succession.