Watty Grahams win Og Sport 2012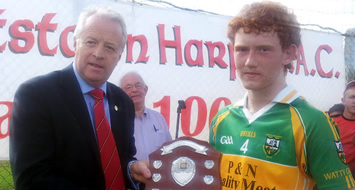 The annual Ulster Og Sport took place in Stewartstown Harps GAC, Co. Tyrone on Saturday 8th September. This is an Under 15 seven a side competition that includes the county winners throughout the province.
The Ulster Council would like to thank the Stewartstown Club for the use of their facilities and also for their excellent organisation of the event.
We would also like to thank all the referees who officiated during the day. Finally we would like to thank all 9 clubs across the province for taking part in this prestigious competition.
Below is the list of results from the competition:
ULSTER OG SPORT RESULTS 2012:
GROUP 1:
Tempo (Fermanagh) 2-03 Killeavy (Armagh) 0-09
Killeavy (Armagh) 1-07 Donaghmoyne (Monaghan) 2-08
Donaghmoyne (Monaghan) 3-08 Tempo (Fermanagh) 1-02
GROUP 2
Creggan (Antrim) 3-05 Ballyhaise (Cavan) 1-02
Ballyhaise (Cavan) 1-07 Rostrevor (Down) 2-09
Rostrevor (Down) 1-08 Creggan (Antrim) 1-04
GROUP 3
Watty Grahams, Glen (Derry) 3-04 Moortown (Tyrone) 0-07
Moortown (Tyrone) 3-07 Naomh Conaill (Donegal) 3-07
Naomh Conaill (Donegal) 2-03 Watty Grahams, Glen (Derry) 2-08
PLATE COMPETITION: (Teams who did not qualify from group stages for Shield)
PREM ROUND
Naomh Conaill (Donegal) 2-10 Ballyhaise (Cavan) 3-02
SEMI-FINALS
Naomh Conaill (Donegal) 0-05 Moortown (Tyrone) 1-12
Killeavy (Armagh) 3-09 Tempo (Fermanagh) 2-05
FINAL
Moortown (Tyrone) 1-07 Killeavy (Armagh) 0-05
SHIELD COMPETITION: (Main Competition)
SEMI-FINALS
Watty Grahams, Glen (Derry) 6-06 Donaghmoyne (Monaghan) 1-06
Creggan (Antrim) 1-06 Rostrevor (Down) 0-10
FINAL
Watty Grahams, Glen (Derry) 2-09 Rostrevor (Down) 2-04