Irish News Ulster All Stars 2012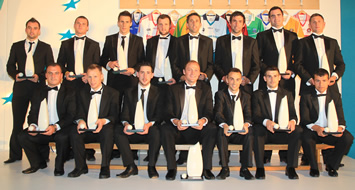 It was Donegal's night at the Irish News Ulster All-Star awards as 11 Donegal players picked up awards for what was deserved recognition for success in reaching the All-Ireland Final.
The 18th Irish News Ulster GAA All-Star team has been announced as voted for by Irish News readers. The uniqueness of the Irish News Ulster All-Stars is that the player selection is entirely based on fan choice – readers select in their opinion the 15 players of the Championship.
Commenting on the success of the Irish News Ulster All-Stars, Noel Doran, editor of The Irish News said: "I think we have a great line-up of footballers in Ulster here tonight which is a great reflection of the continued health of the game in the province and is due recognition for the players who provided some great games across the summer.
"We are delighted to see so many Donegal players in our Irish News Ulster team and wish them every success in the final on Sunday 23rd."
Three additional awards were given out on the night to reflect the importance of all codes within the GAA family: Hurling merit awards, Camogie merit award and Ladies Football merit award.
The achievements of Ulster's top players were recognised at an awards dinner in the Armagh City Hotel on Thursday 6th September.
The evening was hosted by Joanne Cantwell, RTE Sport presenter, with Team Ireland boxing coach Billy Walsh as guest speaker and providing insight into Irish Olympic success at London 2012. Uachtarán Cumann Luthchleas Gael Liam O'Neill as guest of honour.
The Irish News Ulster All-Star team of 2012 is:
Paul Durcan (Donegal)
Paddy McGrath (Donegal)
Dan Gordon (Down)
Neil McGee (Donegal)
Frank McGlynn (Donegal)
Karl Lacey (Donegal)
Anthony Thompson (Donegal)
Ryan Bradley (Donegal)
Joe McMahon (Tyrone)
Rory Kavanagh (Donegal)
Michael Murphy (Donegal)
Mark McHugh (Donegal)
Jamie Clarke (Armagh)
Colm McFadden (Donegal)
Conor Laverty (Down)
Player of the Year: Colm McFadden
The Irish News Merit Awards
Hurling Merit Award: Armagh & Tyrone senior hurling team & Loughgiel Shamrocks hurling team
Camogie Merit Award: Karen Kielt, Derry senior camogie team
Ladies Football Merit Award: Caoimhe Mohan, Monaghan Ladies senior football team