NSPCC welcomes Ulster GAA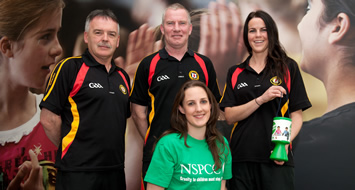 The NSPCC (National Society for the Prevention of Cruelty to Children) welcomed its adoption by the Ulster GAA as Charity of the Year for 2012 by inviting some key members to visit its service centre in Belfast.
Tony Scullion, Former Derry All Ireland Champion, Maura Kelly, Tyrone Ladies Player and Kieran Megraw, Antrim Hurling Coach got a taste of the work done by the NSPCC in Belfast and across the province.
They heard from front line practitioners about some of the different projects run from the centre, including programmes that work with children who have parents with mental health problems, help violent fathers with parenting skills, and educate parents about the risks of inflicting head injuries on their newborn babies.
Ulster GAA President Aogán Ó Fearghail said: "Ulster GAA is very pleased to work with NSPCC/ISPCC as our official charities and we encourage GAA membership across Ulster to support NSPCC/ISPCC events and activities to raise much needed funds and awareness for children in need."
The Ulster GAA has adopted the NSPCC and the ISPCC (Irish Society for the Prevention of Cruelty to Children) as its charities of the year for 2012/2013. So far, the GAA has arranged the charities to fundraise at matches across Ulster, and players have also signed up to take part in events such as the HACK, the NSPCC's challenge walk through the Mourne Mountains on 15 September.
Clare Galbraith, NSPCC community fundraising manager said: "We are honoured to have been selected to be the Ulster GAA's inaugural charity of the year, and it was great to be able to show them more about what we do for children and young people across the province. We're really looking forward to working with them to raise awareness and funds for our services for children and families in Northern Ireland."
—
For further information Contact:
Katherine Fox at NSPCC Northern Ireland on 020 3222 4262
Ryan Feeney, Ulster GAA 02837517180
Photo Captions to read: Ulster GAA and NSPCC working together
L to R: Kieran Megraw, Tony Scullion and Maura Kelly Ulster GAA along with Clare Galbraith, NSPCC Community Fundraising Manager