'Sport in the Community' Forum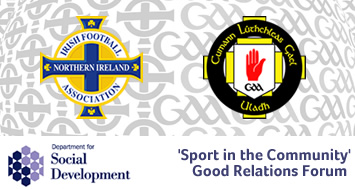 Ulster GAA in partnership with IFA are to host a joint Community Relations Forum 'Sport in the Community' on Wednesday 31st October from 9:30am to 2pm in NICVA, Duncairn Gardens, Belfast.   All those interested in exploring the role of sport in community relations are welcome to attend.
The Forum aims to explore the role of sport in community in developing good relations and contributing to peace building.  The session will include case studies from IFA and GAA clubs, which demonstrate the good work being done by sports clubs across Ulster.
Representatives from the Department for Social Development will also be in attendance, as this project is funded by DSD.  Key speaker on the day will be Duncan Morrow, who will explore the positive role sport can play in divided communities.  A panel session will also include representation from Ulster GAA, IFA and Trevor Ringland from Game of Three Halves.
Speaking in advance of the Good Relations Forum Ulster GAA President Aogán Ó Fearghail stated, "The Good Relations Forum is a joint event between Ulster GAA and IFA, and will be the first time that the two largest governing bodies for sport in Ulster will come together to explore the impact of sport in building community relations and developing our communities.  This forum should be thought-provoking and will provide the attendees with an opportunity to hear how Ulster GAA and IFA propose to work together for the betterment of the entire community."
IFA President Jim Shaw stated, "We are very much looking forward to coming together with Ulster GAA in our first major Good Relations event together. This will be a great opportunity to showcase the positive work being done within Crumlin United FC and St Peter's Warrenpoint GAA Club, to share this learning across both codes and to invite discussion on the impact of sport in our community".
For Further Information contact:
Aileen Cummins (Ulster GAA): (028) 3751 7180 or aileen.cummins.ulster@gaa.ie
Jenny Penrose (IFA): (028) 9066 9458 or jpenrose@irishfa.com