Diploma in Performance Coaching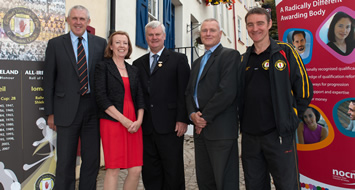 Ulster GAA now has the opportunity to offer a nationally recognised qualification to their volunteer coaches. The Level 3 Diploma in Performance Coaching was developed in partnership with Ulster GAA and accredited through Open College Network Northern Ireland (OCNNI) in its capacity as a national awarding body based in Northern Ireland.
This exciting initiative has been designed in times of economic hardship and unemployment, with the aim being to provide GAA volunteers with the opportunity to develop new skills and competencies that will be of benefit when seeking employment.
In partnership with the Southern Regional College, this course will be available for coaches from January 2013.
The closing date for applications will be Friday 14th December 2012.
To register contact Southern Regional College at (028) 3752 2205 or e-mail McDonaldM@src.ac.uk