Stars support the Match for Michaela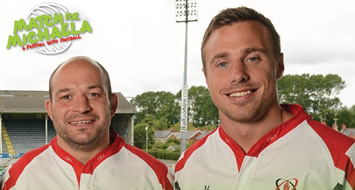 Stars from across the sporting world are supporting Saturday's Match for Michaela and urging people from across the island of Ireland and across different sporting organisations to support the Festival with Football.
The Match for Michaela takes place this Saturday (3rd November) in Casement Park, Belfast.  Gates open at 5pm, with entertainment starting at 6pm before a one-off match special when All Ireland Champions Donegal take on the best of Ulster.
Stars from across GAA are endorsing the event, with many scheduled to attend.  The Ulster Select side will be made up of players from across all nine counties of Ulster, all of whom are supporting this worthy cause.  Former Tyrone All Star Peter Canavan, Donegal Captain Michael Murphy and Donegal legend Martin McHugh are keen to throw their weight behind the event.
Speaking about the event Tyrone's Peter Canavan, who currently manages Fermanagh stated, "Pull on your club colours and come to Casement for this special evening. #NothingBeatsBeingThere."
Michael Murphy, Donegal Captain said, "It will be a pleasure to lead Donegal out as All Ireland champions for the first time in front of the Gaels of Ulster."
Former Donegal All Ireland Champion Martin McHugh: "The GAA family is a tight-knit family that felt the Harte and McAreaveys heartache when they lost Michaela, now lets all come together to celebrate Michaela's life and raise money for her foundation."
Fresh from the World Handball Championship Antrim sisters Sibeal Gallagher and Fiona Shannon will be in attendance on Saturday night, they said, "The Match for Michaela will bring Casement Park alive.  We're really excited about bringing our World Championship medals to this event and hope it will inspire many young people to get involved in handball."
And it's not just GAA stars that are endorsing the Match for Michaela, stars from across the sporting world have declared their support for Saturday night's event including Double Olympic Medalist Boxer Paddy Barnes, Three Time Paralympic Gold Medallist Michael McKillop, Rugby legends Rory Best and Tommy Bowe, Northern Ireland Manager Michael O'Neill, former Sunderland Manager Martin O'Neill and Northern Ireland Player Niall McGinn.
Niall McGinn, NI Player: "I am delighted to support the Match for Michaela. Everyone should come out and support this wonderful event."
Michael McKillop, Three Time Paralympic Gold Medallist: "The Match For Michaela will be a great night and I urge all my fellow Antrim supporters to come to Casement Park on November 3rd to support The Michaela Foundation".
Paddy Barnes, Double Olympic Medalist Boxer: "Everyone make sure and get along to the Match for Michaela … it's gonna be a knockout!"
Ulster Rugby Stars Tommy Bowe and Rory Best: "Stand up for the Ulster men on 3rd November and support this great cause."
Michael O'Neill, Northern Ireland Manager: "I am delighted to support the Match for Michaela. Belfast is the place to be on November 3rd for what will be a great match."
Irish Comedian Ardal O'Hanlon, best loved for his role as Fr Dougal in Father Ted, and Down's Paddy Kielty have also endorsed the event.  Two of Ireland's best know DJs have also got behind the Match for Michaela to support the event – Hector O hEochagain and Ray D'Arcy.
The Match for Michaela is going to be a night not to be missed.  The family friendly atmosphere makes it the perfect event on Saturday evening for people of all ages.  There will be plenty of entertainment and the match is guaranteed to be a key highlight before the grand finale.
Entertain will include a specially commissioned Railway Band, made up of traditional musicians from across all nine counties of Ulster, performances from Little Starz Academy, Tyrone's X Factor Star Janet Devlin and headline act More Power to your Elbow.
A surprise grand finale is set to be a fitting tribute to the memory of Michaela McAreavey.
Admission is payable on the night but spectators are urged to buy their tickets online at www.themichaelafoundation.com
For further information Contact:
Ryan Feeney: 07920528790