Ulster ready for Inter-Pro Challenge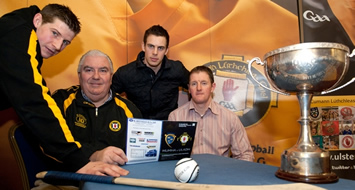 Ulster GAA Provincial Director Danny Murphy has today, along with Ulster Football Manager Joe Kernan and Ulster Hurling Manager Gregory O'Kane launched the 2013 M Donnelly Inter Provincial Competition.
The 2013 M Donnelly Inter Provincial Competition will bring a double header to the Athletic Grounds in Armagh on Sunday 17th February when Ulster GAA's finest Footballers and Hurlers take on Munster. Ulster GAA Provincial Director Danny Murphy said, "Ulster is looking forward to the 2013 M Donnelly Inter Provincial Competitions. Our players play for the love of the games and for the pride of their jersey. It's a great honour for any player to play for their club, their county and their province."
Ulster GAA Gaelic Football Manager Joe Kernan stated, "Players love playing in this competition, it is an honour to wear the Ulster jersey and a great experience for any player. Not everyone, and not every team can win an All Ireland title but this competition provides an opportunity of the best players across all Ulster counties to play together and to play against the rest of Ireland. That is something really special and a competition we should cherish. This years Inter Provincial football squad will feature players from all of Ulster's nine Counties."
"Ulster are 100% behind this competition, and we're in it to win it – to bring back the third consecutive Inter Provincial Cup to Ulster. I hope thousands of supporters will come to the Athletic grounds in Armagh to support Ulster's finest players and to be part of a very special occasion."
Ulster GAA Hurling Manager Gregory O'Kane said, "This is a fantastic competition. I enjoyed playing in the Railway Cup myself and with the calibre of hurlers we have in Ulster, they deserve to play against the best in Ireland. We are very much looking forward to the match in Armagh, with all our players up for it."
Aogan O Fearghail, Ulster GAA President said: "Ulster GAA will continue to promote and support the Inter Provincial Series. We have robustly defended the importance of retaining this historic and important competition and this stance is supported by all our nine Counties. Both Joe and Gregory have made our intentions clear and we want an Ulster double in 2013."
The launch was also attended by the Tyrone Manager Mickey Harte, Antrim Manager Frank Dawson and Ulster GAA Football Development Officer Tony Scullion who is the current Coach of the Ulster Inter Provincial Football team and the holder of six consecutive Inter Provincial Medals.
—
M Donnelly GAA Inter-Provincial Championships Semi Finals
Ulster v Munster
Sunday 17th February at the Athletic Grounds Armagh
Hurling: 12.30pm Football: 2.15pm