Cavan Camogs aiming to retain their Ulster title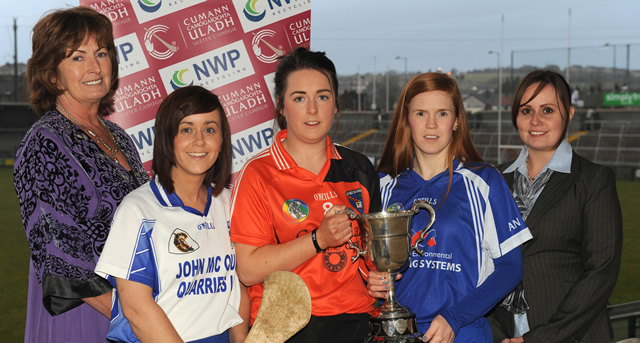 On Sunday 5th May the NWP Recycling Ulster Camogie Championships begin with reigning Junior champions Cavan hosting Monaghan. Cavan won the 2012 title after defeating the Armagh second string at Casement Park in an exciting tussle of youth versus experience. Having gone a number of years without silverware the Cavan captain Bríd Boylan believes that boost has helped Cavan Camogie in the last year.
'It was a great lift for Cavan last year to win the Ulster Junior title as it was something we really needed as it was a while since we lifted silverware which helps drives everyone on. We knew Armagh were going to be a young quick team but we had plenty of experience in the squad last year. This year we have added a few new players on the panel to give us a good blend and it is keeping everyone on their toes. Our big focus now is on retaining our Ulster title'.
Tom Walsh who is still in the managerial hot seat in Cavan also shares his captain's belief that retaining the NWP Recycling Ulster Junior championship as their main focus but concedes it may not be easy. 'It will be hard to retain our title and it's not easy to win back to back titles. We have just finished the National League campaign which went ok but looking now to a game against Monaghan which is always difficult. We thought we were coasting in the 2012 Final and Armagh came right back at us and it was a great game and we had players like Roisin O'Keefe and Rosie Crowe who were able to bring us through'.
Monaghan County team have struggled over the past few years but Eilis McCarron believes participating in the Ulster Championship can boost all levels of camogie in Monaghan. 'As there are only four club teams in the Monaghan it's a challenge trying to develop camogie in the County. We have the potential there if we can prepare right. It would hopefully encourage many young players in Monaghan if we can get a bit of success'.
This year's NWP Recycling Ulster Championship has expanded on the 2012 format. Antrim and Down have followed Armagh's lead and entered second teams into the Championship with Antrim, Down and Tyrone Seniors facing off in a round robin format in the Intermediate Championship. In the Senior Championship Down will host Antrim on 26th May which will be followed by 2012 Champions Derry travelling to Armagh on June 9th. With the Junior Championship beginning this weekend when Cavan face Monaghan and Armagh Juniors also competing all teams will be aiming towards the Ulster Final triple header in Derry on 15th June.