Brilliant Down comeback stuns Derry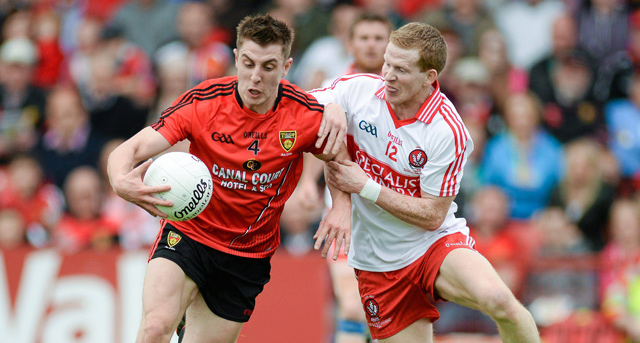 Ulster GAA Football Championship Quarter-Final:
Derry 1-15 Down 2-17
Second-half goals from Donal O'Hare and the inspirational Mark Poland completed a brilliant comeback for Down as they defeated Derry at Celtic Park on Sunday.
Despite the home side holding a four-point lead at the break and seemingly having moved into the ascendancy, Down turned the game completely around after the interval and led by excellent second-half performances from Poland and Kevin McKernan, James McCartan's side moved into the Ulster semi-finals, where they will play Donegal.
It was an outstanding game of football, with an impressive tally of 35 scores, 32 of which came from play. Although there were question marks about the defensive organisation of both sides, it would be churlish to focus on that given the quality of point-taking on display.
Derry were left to rue a couple of missed goal chances in the first half, notably when the excellent Eoin Bradley had a shot saved by Brendan McVeigh, and had that effort found the net, it could have been a very different result.
But Down were really excellent in the second half, and outscored Derry by 2-8 to 0-5 to seal victory and move forward.
Derry held a four-point lead at half-time after what was an outstanding 35 minutes of football.
Despite the presence of sweepers on both sides, there was plenty of free-flowing, open football in the first half, and that was reflected by the fact that there were 11 different scorers from play in the opening period.
Down started the better of the two sides, kicked the first two points of the game, and led 0-7 to 0-5 after 25 minutes. However, Derry had been bubbling along nicely throughout that period, and they exploded into life in the final 10 minutes of the half, hitting 1-5 in response to 0-2 from Down to lead by four at the interval.
The Derry surge was inspired by Enda Lynn's workrate, the superb Eoin Bradley, who kicked four excellent points from play in the first half, and James Kielt, who despite being very tightly marked, kicked three brilliant points from very limited opportunities on the ball.
But it was Bradley who had the most significant influence in the first half, and it was he who created the goal for centre-half-back Mark Lynch on 31 minutes. Bradley was being peppered with ball from the middle third, and he won one in typically tigerish style, before turning his marker and powering towards goal.
He then set up the onrushing Lynch, who kept his cool as he slotted past Brendan McVeigh. That put Derry five ahead, which was quite remarkable, given the way Down had looked to have the measure of them for much of the first half.
Down had started with points from Mark Poland and Ambrose Rogers, and while Derry kept in touch with points from Charlie Kielt and Bradley, Down were able to maintain their lead, with their two best scores of the half both coming from Kevin McKernan. McKernan drove two balls over the bar beautifully, showing superb technique to guide his strikes expertly.
Derry's excellence told by the end of the half though, and their half-time lead could have been even greater had Brendan McVeigh not made a brilliant save on the stroke of half-time from a powerful Eoin Bradley shot.
A Benny Heron score shortly after the interval restored Derry's five-point lead but then Down, and Poland, took over. Points from impressive championship debutant Niall Madine and Poland reduced the gap to three, and then on 45 minutes the game was level when Down found the net.
It came from a break from Poland. Space opened up for the centre-half-forward, tho took advantage and made a byline for the Derry goals. He played a clever one-two before setting up O'Hare, and the Burren man palmed to the net.
The second Down goal came seven minutes later, and this time it was Poland on the end of the move. It all came about from a shocking defensive error from Ryan Scott. The defender gifted possession to Conor Laverty, who raced in on goal, set up O'Hare, who in turn played the ball across to Poland. Poland volleyed the ball into the net, and that made it 2-13 to 1-12.
James Kielt inspired a brief Derry revival heading into the final quarter, his brilliant point setting off a run of three unanswered scores for his side, but Down steadied the ship with two inspirational scores from the outstanding McKernan.
Once McKernan's scores flew over, Down were four clear again, and there was no way back for Derry thereafter. Down play Donegal on Sunday, June 23.
Scorers for Derry: J Kielt 0-5 (1f), E Bradley 0-4, M Lynch 1-1, B Heron 0-2 (1 45′), C Kielt 0-1, E Lynn 0-1, B McCallion 0-1
Scorers for Down: D O'Hare 1-4 (1f), M Poland 1-2, K McKernan 0-4, N Madine 0-3, A Rogers 0-1, D Rooney 0-1, K King 0-1, J Johnston 0-1.
Derry: Eoin McNicholl; Gerard O'Kane, Chrissy McKaigue, Ryan Scott; Charlie Kielt, Mark Lynch, Brian McCallion; Patsy Bradley, Ryan Bell; Aidan McAlynn, James Kielt, Enda Lynn; Benny Heron, Eoin Bradley, Coilin Devlin.
Subs: Declan Mullan for Bell (53), Emmett McGuckin for Devlin (58), Declan Brown for McCallion (63), Liam Gormley for P Bradley (68), Lee Kennedy for Heron (70).
Down: Brendan McVeigh; Daniel McCartan, Brendan McArdle, Ryan Boyle; Declan Rooney, Peter Turley, Keith Quinn; Kalum King, Kevin McKernan; Ambrose Rogers, Mark Poland, Niall Madine; Donal O'Hare, Benny Coulter, Conor Laverty.
Subs: Danny Savage for Rogers (52), Ryan Mallon for Quinn (58), Jerome Johnston for Coulter (64), Eoin Costello for Poland (72).
Referee: David Coldrick (Meath)
Report: gaa.ie