Antrim regain Minor Hurling title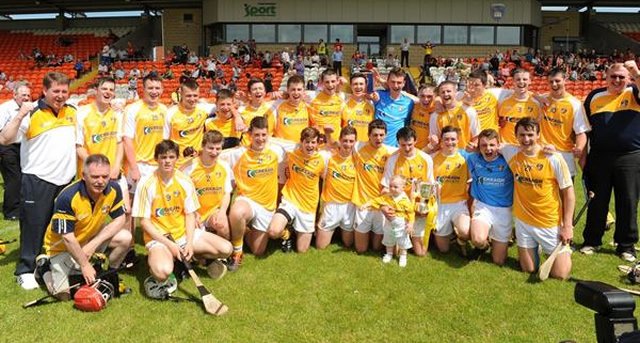 Electric Ireland Ulster Minor Hurling Championship Final:
Antrim 2-20 Down 1-12
On a glorious hot sunny afternoon in the Athletic grounds Armagh the minor hurlers from Antrim took on Down in the final of the Ulster minor hurling championship, looking to wrestle back the Danny McNaughton memorial cup. It turned out to be a hot afternoon of hurling for the young hurlers from Antrim.
Directly after the warm up by lead coach Dominic McKinley, and in the first minute of play, Antrim were reduced to 14 men when mid-fielder Ryan Mc Cambridge was red-carded by referee John Clarke. From then on it was a backs to the wall performance by the Antrim team as they found an inner strength and turned in an amazing performance. The Antrim management team switched corner forward Conor Johnson to mid-field, alongside fellow mid-fielder Alex Delargy and played a two-man full-forwarded line. From then on it was game on with Conor Johnson opening the scoring for Antrim with a superbly taken free after his St John's club mate centre-half forward Domhnall Nugent was hauled by the Down defence.
Antrim began to recover from the dismissal of Ryan Mc Cambridge and from then on it became a free flowing game of hurling. Antrim extended their lead through scores from play by corner forward Saul McCaughan, full-forward Jude McCurdy, mid-fielder Alex Delargy and the steady free-taking of Conor Johnson. Down responded though and drew within a point. However some neat combination play from corner forward Saul McCaughan put Jude McCurdy through on goal and the St John's player made no mistake and rifled the ball into the corner of the Down net.
Down responded once again using their extra man's advantage breeching the Antrim defense by overloading and exploiting space on the right hand side which resulted in a goal the Antrim shot stopped Colin Heyden could do nothing to about. From the ensuing puck out wing half forward Enda McFerran (who won a lot of ball throughout the game) fed mid-fielder Alex Delargy (the middle field dynamo) who dispatched the ball over the bar to steady the Antrim team. Further delightful scores from play by Cormac McAlister and a deft touch of a goal from Jude McCurdy after some great play from corner forward Saul McCaughan saw the Saffrons take a comfortable lead of 2:11 to 1:6 at the break.
After the restart, the 14-man Antrim team started the brighter and tacked on a further scores through Conor Johnson, Saul McCaughan and Jude McCurdy before Down were able to get a score on the board. The electric pace of Conor Johnson and Saul McCaughan created havoc in the Down defence yielding further scores and frees that were dispatched by Conor Johnson.
Down did not take advantage of their extra man they had, opting to play into Antrim hands by using an additional sweeper to try and counteract the fast pace of the Antrim forwards. Further scores from play by Cormac McAlister, Saul McCaughan, Jude McCurdy saw Antrim take a comfortable 10-point lead. With less than 10 minutes to play Down were reduced to 14 men for a second bookable offence.
The exhausting heat took a toll on both teams and substitutions were made; Gerard Walsh replacing Ruairi Diamond, James Duffin for Donal O'Hara, Christy McNaughton for Jude McCurdy, Conrad McDonnell for Saul McCaughan and Ryan McNulty for Paddy Burke.
Down tried unsuccessfully to go for goals but the Antrim shot stopper Colin Heyden was equally up to the task and made several key saves. In the closing stages of the game Down were able to tag on a few points from play and in the final minute of play, man of the match Alex Delargy scored Antrim's final point.
Antrim ran out winners on a score line of 2:20 to 1:12 winning back the Ulster minor championship with a sterling performance by all the team. In his post match interview, Antrim Bainisteoir Niall Kearney paid tribute to the work rate and resolve of the Antrim players in overcoming adversity and playing the majority game with 14 men.
Antrim minor hurling panel: 1. Colin Hayden, 2. Ruairi Diamond, 3. Karl O'Kane, 4. Aiden Orchin, 5. Donal O'Hara, 6. Paddy Burke, 7. Maol Connolly, 8. Ryan McCambridge, 9. Alex Delargy (0:3), 10. Cormac McAlister (0:2), 11. Domhnall Nugent (27. Blood sub jersey), 12. Enda McFerran, 13. Conor Johnson (0:9), 14. Jude McCurdy (2:2), 15. Saul McCaughan (0:4).
Substitutes: 16. Conal Walsh, 17. Conrad McDonnell, 18. Steven Gaskin, 19. Gerard Walsh, 20. James Duffin, 21. Ryan McNulty, 22. Christy McNaughton, 23. Domhnall Moran, 24. Seaghan Shannon.
Antrim minor management: Niall Kearney (Bainisteoir), Tony McNulty, Dominic McKinely, Kieran O'Connell and Brendan McLaughlin
Report: antrim.gaa.ie