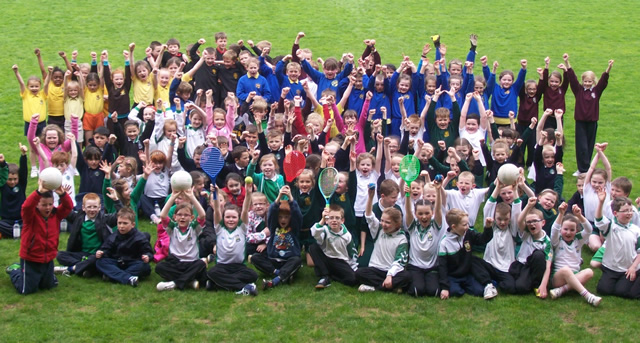 The County Down DENI coaches organised series of Rounder's days in the last week of May to coincide with an 6 week programme of striking that was coached with various schools throughout Co. Down.
GAA Rounder's is one of the four official GAA sports. Along with Gaelic Football, Hurling and Handball, Rounder's was included in the original GAA charter back in 1884
Primary 4 children were picked by the class teacher and it was not always the 'sporty child' who was picked. Children were picked on listening skills, attitude to work both in PE and in class, and their willingness to try and put in good effort in all aspects of school life. Across three venues over 350 kids had a chance to represent their school for a whole morning of rounder's.
As Rounder's is a limited contact sport it is perfect for both recreational and competitive play. It also draws on a different set of skills than the conventional GAA games and is very good for developing hand eye coordination. The beauty about Rounder's is everyone is always active and it is excellent for teamwork, game sense and overall general aerobic fitness.
Both children and teachers had a fantastic day at all 3 venues in Pairc Elser, Newry, Carryuff GFC, and Tullyish GFC. Many thanks to all 3 clubs who provided their field and hall facilities on the day to help in the smooth running of the event.
Included is a picture of children from the home of Down GAA, Pairc Elser, Newry.