Ulster Championships launched at the MAC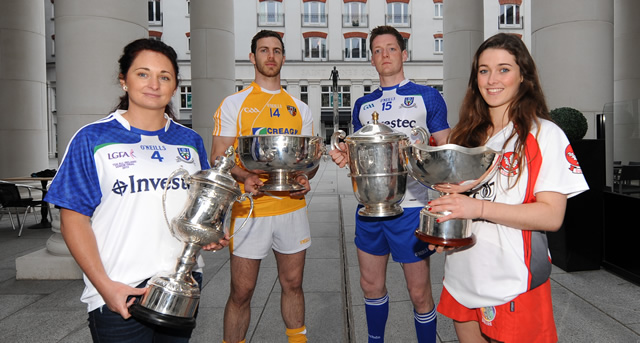 The launch of the 2014 Ulster Senior Football, Hurling, Ladies Football and Camogie Championships took place last night, Wednesday 30th April, at the MAC (Metropolitan Arts Centre) Belfast.
Launching the Championships among an outstanding turnout of players, management and media were the Ulster GAA President Martin McAviney, Ulster Ladies Gaelic Chairperson Joe Lagan, Ulster Camogie Chairperson Bridghidin Heenan and GAA Ard Stiúrthóir Paraic Duffy.
There was a palpable air of anticipation at the launch with everyone involved looking forward to another colourful, exciting summer of Ulster Championship action.
Following feedback from GAA supporters, Ulster GAA took the decision to freeze ticket prices for the fifth year in a row as well as implementing a new strategy to increase access to tickets. The demand and anticipation for the Ulster Championships is already evident with online sales for the Derry v Donegal game selling out within a number of days. Club members will still have the opportunity to purchase tickets for this game via their County Board allocation, while tickets for all other first round Ulster Championship matches are still available to buy at gaa.tickets.ie
GAA Ard Stiúrthóir, Paraic Duffy was in attendance at the launch and commented:
"Ulster GAA are to be commended for the great work they do in marketing and promoting our games. They portray our games in a positive vibrant manner and are leading the way in this regard. I would also welcome the integrated approach taken by Ulster in both tonight's event and in incorporating ladies games as curtain raisers at Ulster Championship matches.
I thank the players and managers for their continued support and I ask both to continue the good working relationship we have with the media. We have an articulate group of players currently playing our games and the public wish to hear their opinions on various association matters and I ask that this be facilitated. 
It is fantastic to see such a huge turnout of players at tonight's launch and I wish all teams well in their respective championships in 2014."
In his speech, Ulster GAA President  Martin McAviney stated:
"Gaelic Games in our Province are in a robust and healthy state and that has been evident during the league campaign which has acted as a great preview for what we can expect in the Championships. We are proud that our events make a significant contribution to our community and economy. The first four games of our Championship will bring people from all over Ireland to Omagh, Derry, Enniskillen and Armagh, and in many cases will be the largest sporting event held in that area during this year. We are delighted to be working with both the Tourist Board and Local Councils in partnership to promote these wonderful towns and Cities.
I also want to highlight the wonderful games we have in the Camogie and Ladies Gaelic Championship, and  I would appeal to the media to give coverage and support to our female codes. It is vitally important the women playing our games are recognised for their sporting achievements and are given a platform to highlight their function as important role models to all our young people. I also want to thank all our sponsors for their continued commitment and support to Gaelic Games in the Province."
Ulster Ladies Gaelic Chairperson Joe Lagan commented:
"We are delighted to be part of this event tonight.  It is particularly pleasing that we will form part of a double header on Sunday 8th June in the Athletic Grounds when Armagh will play Tyrone in the Ulster Ladies Championship prior to Armagh taking on Cavan in the Ulster Senior Football Championship.  We appreciate the media coverage we will get from that event which is crucial to the promotion of our games."
Ulster Camogie Chairperson Bridghidin Heenan stated:
"As the Camogie Association celebrates its 110th Year in 2014 we look forward to a year of games highlighting the skill and passion of our players in the Senior and Intermediate Championships. The quality of our Ulster teams are improving and this will hopefully result in a competitive Ulster Camogie Championship. I would like to thank NWP Recycling for their continued sponsorship of our Championships which is vitally important in promoting and showcasing our games."
For more information view www.ulster.gaa.ie/ulsterchampionship2014 or Ulster GAA social media channels:
www.facebook.com/UlsterGAA | www.twitter.com/UlsterGAA | www.google.com/+UlsterGAA
—
Ulster GAA Senior Football Championship 2014 Fixtures
Preliminary Round
Sunday 18th May – Tír Eoghain v An Dún at Healy Park (All-Ticket Game)
Quarter Finals
Sunday 25th May – Doire v Dún na nGall at Celtic Park (All-Ticket Game)
Sunday 1st June – Fear Manach v Aontroim at Brewster Park
Sunday 8th June – Ard Mhacha v An Cabhán at Athletic Grounds (All-Ticket Game)
Sunday 15th June – Muineachán v Tír Eoghain / An Dún
Semi Finals
Sunday 22nd June – Doire / Dún na nGall v Fear Manach / Aontroim
Saturday 28th June – Ard Mhacha / An Cabhán v Muineachán / Tír Eoghain / An Dún
Final
Sunday 20th July
—
Ulster GAA Senior Hurling Championship 2014 Fixtures
Quarter Finals – Sunday 15th June
An Dún v Dún na nGall
Doire v Ard Mhacha
Semi Final – Sunday 29th June
An Dún / Dún na nGall v Doire / Ard Mhacha
Final – Sunday 13th July
Antrim v Semi Final Winner
—
TG4 Ulster Ladies Senior Football Championship 2014 Fixtures
Quarter Finals – Sunday 8th June
Ard Mhacha v Tír Eoghain
Semi Finals
Saturday 21st June – Muineachán v An Cabhán
Sunday 22nd June – Ard Mhacha / Tír Eoghain v Dún na nGall
Final – Sunday 6th July
—
TG4 Ulster Ladies Intermediate Football Championship 2014 Fixtures
Round 1 – Saturday 8th June
Fear Manach v An Dún
Round 2 – 21st/22nd June
Aontroim v Loser of Fear Manach v An Dún
Final – Sunday 6th July
Round 1 Winner v Round 2 Winner
—
NWP Recycling Ulster Senior Camogie Championship 2014 Fixtures
Semi Finals – Sunday 11th May
Doire v Ard Mhacha
Aontroim v An Dún
Final – Sunday 1st June
—
NWP Recycling Ulster Intermediate Camogie Championship 2014 Fixtures
Semi Finals – Sunday 25th May
An Cabhán v Aontroim
Tír Eoghain v An Dún
Final – Sunday 1st June