Down too good for Antrim in Ulster SFC Quarter Final
Ulster SFC Quarter-Final
Down 1-18 Antrim 0-14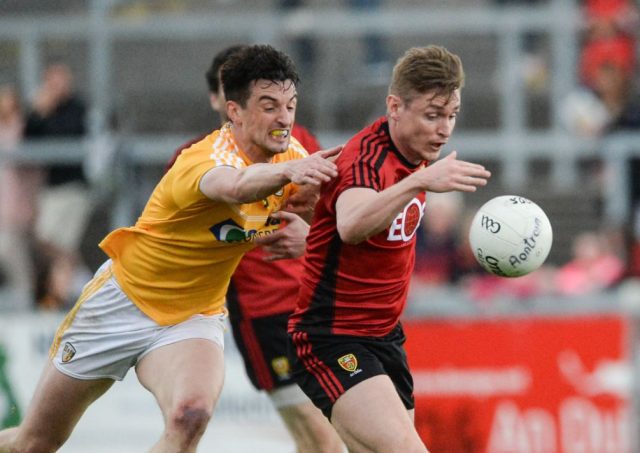 Down looked as if they could progress to an Ulster semi-final meeting against the winners of Derry and Donegal at their leisure, such was the lack of challenge produced by Antrim in this Ulster quarter-final meeting in Newry.
Lenny Harbinson's Saffrons came with a deliberate plan to choke up the middle channel of the defence, withdraw into a defensive shell,  and wear the Down attack down.
However, almost practically none of it worked.
When they got possession, they simply did not have the support play required and in the tackle, they were a far less physically imposing side that Eamonn Burn's outfit.
In contrast, Down went the other way.
They pressed up hard on Antrim's kickouts and this was the key to dismantling the visitor's gameplan.
When goalkeeper Chris Kerr went long, Niall McKeever was a distant second-best to Peter Turley who produced a man of the match performance here, one particular highlight when he fielded a Kerr restart with one hand while holding McKeever at arm's length with the other.
Because of this, the St Gall's goalkeeper was forced to go short, but his defence simply were not on the same wavelength often enough.
Down had compiled four points in four minutes around the middle of the first half to open up something of a cushion, but in one of the final plays of the half, Kerr attempted to go short to Niall Delargy who hesitated to collect the ball and allowed Down's busy wing-forward Shay Millar to nip in and win the ball. Millar then had the presence of mind to dish off to the incoming Kevin McKernan who put it low to the net.
That left the half-time scoreline at 1-9 to 0-5, Antrim's points coming from random play more than anything pre-planned.
From the first Down kickout in the second half, Antrim then pressed the Down kickout to  much better effect. They even equalled Down's score in the second half but the game was already won and lost by that stage.
With a flood of substitutes coming on, Eamonn Burns was able to withdraw a number of his more established stars as they won pulling up. They were also able to rest Ryan Johnston, with this game coming a little too early for him to shake off a knock.
A win surely, but it leaves them untested for the Ulster semi-final.
Scorers for Down: D O'Hare 0-7, 5f, K McKernan 1-1, A Doherty 0-2 (2f), S Dornan, S Millar 0-2 each, C Mooney, B McArdle, C Maginn, C Harrison 0-1 each.
Scorers for Antrim: P McBride 0-4, 2f, R Murray 0-4, 1f, C Murray, K Healy 0-2 each, C Duffin, M Fitzpatrick 0-1 each.
DOWN: M Reid; C Flanagan, B McArdle, A Doherty; D O'Hagan, N McParland, C Mooney; P Turley, N Donnelly; K McKernan, C Maginn, S Millar; D O'Hare, C Harrison, R Millar. Subs: Dornan for McKernan (H-Time, Black card), J Flynn for R Millar (51m), R McAleenan for Flanagan (56m), D McKibbin for Mooney (56m), C McGrady for Harrison (60m), N Madine for O'Hare (67m)
ANTRIM: C Kerr; P Healy, P Gallagher, N Delargy; K O'Boyle, R Johnston, J Laverty; P McAleer, N McKeever; M Sweeney, C Murray, R McCann; R Murray, M Fitzpatrick, P McBride. Subs: C Duffin for Gallagher (H-time), S Beatty for McKeever (50m), K Healy for McCann (50m), D Lynch for Laverty (56m), O Eastwood for McAleer (63m), M McCarry for P Healy (69m)
Referee:Derek O'Mahony (Tipperary)
Report: GAA.ie