Gaelic Life Dr McKenna Cup Final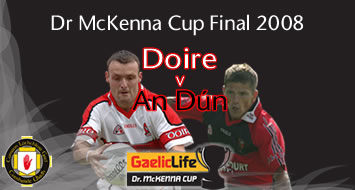 The Gaelic Life Dr McKenna Cup will be lifted by a new County for the first time in 5 years, following Tyrone's successes over the past 4 years.
Derry and Down will clash for the silverware on Saturday 26th January at Casement Park, with a 7.30pm throw in. Derry will probably enter the tie as slight favourites, however Down are on the back of three excellent performances against Donegal, UUJ and Cavan.
As part of the Ulster Council's marketing campaign of the Gaelic Life Dr McKenna Cup, we are encouraging our NFL (No Foul Language) initiative. NFL wristbands as well as a number of sponsors items will be given out at the final.
There will also be live entertainment from 6.30pm and at half-time, and hot and cold refreshments will be available for purchase.