GAA welcomes Minister to Pairc Esler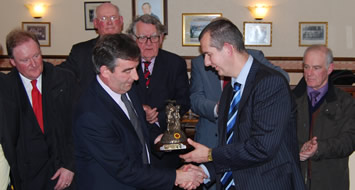 The Minister for Culture Arts and Leisure Mr Edwin Poots MLA attended the Gaelic Life Dr McKenna Cup fixture between Down and Donegal at Pairc Esler, Newry as a special guest of the Ulster Council GAA.
Ulster Council GAA President, Tom Daly has warmly welcomed the attendance of Mr Poots, commenting:
"The Ulster Council GAA is delighted that the Minister has accepted our invitation to attend tonight's fixture at Pairc Esler in Newry. We acknowledge the historic nature of Edwin Poots attending a GAA fixture for the first time and we have no doubt he will be made feel very welcome by the Gaels of Ulster attending tonight's event".
"Our Council has developed a very positive relationship with the Minister since he took office and he has already attended a number of events organised by the GAA including the Club and Community Development Conference last October. The Minister also recently visited our Administrative Headquarters in Armagh and we had positive discussions about plans for the future development of the GAA in the province.
We look forward to his Department supporting our business case for the continued modernisation of our games and our facilities."
"It is fitting that the Minister is attending his first GAA fixture in Pairc Esler, Newry as it is now one of the most modern County Grounds in Ulster. We are extremely grateful to the Minister, DCAL and Sport NI for their investment invested in an improvement programme which has seen the building of a new Covered stand and the Installation of a state of the art floodlighting system in Pairc Esler. The County Board and Clubs in Down who have contributed significantly to the financing of these projects will benefit from this investment for a long time to come."
Uachtaran Cumann Luthchleas Gael, Nickey Brennan also took the opportunity to pay tribute to Minister Poots, adding:
"This is a landmark occasion in the further development of community relations on the Island of Ireland when a Unionist Minister is prepared to attend one of our games. For me this highlights the good standing of the Ulster Council GAA who I know have developed an exceptionally positive relationship with Mr Poots."
"As President of the Association I am absolutely enthused that the Minister has been so receptive to the role and relevance of the GAA in Ulster and the contribution it makes to sport and communities. I wish to acknowledge the genuine commitment and professionalism of Edwin Poots in assisting the GAA with our development programmes in Ulster. I look forward to him taking up my personal invitation to attend Croke Park for an event sometime in the near future."