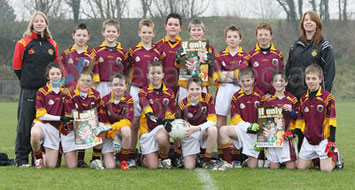 A total of 12 teams were represented at a recent Super 9s football blitz at Queens playing fields.
The blitz provided an opportunity for players of varied abilities to represent their class, school and county against schools from their neighbouring county. Secondary schools are asked to run their own class leagues. The format was 9 a side and ensured that each child had maximum involvement. The teams all got a minimum of 5 games.
The next Super 9s Hurling tournament will be held for 2nd Years at Queens playing fields on 12th March at 10am. For more information contact Una McKay umckay@ulster.gaa.ie
The Ulster Council has recently launched its NFL – No Foul Language campaign. This campaign aims to encourage our players, supporters, parents, teachers and coaches to lead the way for our children in terms of thinking before we speak, especially when something happens on the field of play that makes us want to shout obscenities in rage of what has happened, or indeed when giving the post match report.
In support of the NFL campaign, the Council gave away wristbands to teachers, referees and pupils at the blitz.
(Images courtesy of Mark Jones Andersonstown News.)
Related: