NFL building towards exciting climax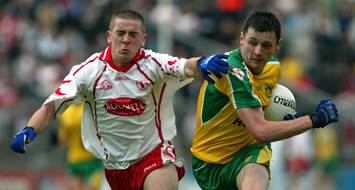 The country's footballers face a very busy schedule over the next three weekends as the Allianz League builds towards an exciting climax. Round 5, which is often decisive in terms of establishing important trends will take place in Divisions 1,2,3 next weekend while it's Round 6 in the 9-team Division 4 group.
Division 1: Top Two Clash in Pearse Stadium
Saturday 29th March (7.00pm)
Tyrone v Donegal @ Omagh
Laois v Kerry @ Portlaoise.
Sunday 30th March (2.30pm):
Kildare v Mayo @ Newbridge
Galway v Derry @ Pearse Stadium.
Five points separate top from bottom in a group that was always going to be extremely competitive. Galway and Derry are level on six points at the top of the table so their clash in Pearse Stadium on Sunday will be one of the highlights of the day. Derry have a good record against Galway in the League in recent years but Galway (three wins from four games) have shown promising form under new manager, Liam Sammon so far, even if they did lose by a point to Donegal last time out.
Donegal are also on six points while Tyrone, whom they meet in Omagh on Saturday night are three points back but showed improved form when beating Laois last Saturday week. A Tyrone win would put Donegal back on track to challenge for a strong finish while a Donegal win would leave them very well placed as they seek to retain the League crown, won for the first time last year. Amazingly, all four of Donegal's games so far have been one-pointers. They beat Kerry, Mayo and Galway by a point and lost to Kildare by the minimum.
Kildare and Mayo, both of whom are on three points, meet in a crucial clash at Newbridge. Kildare were well beaten by Derry in Round 4 while Mayo gave their season a huge impetus by beating Kerry by a point. Laois are the only team in the group still waiting for their first win, a task that will prove very difficult at home to Kerry on Saturday night. Laois have one point on the board so it's vital to pick up a win if they are to begin the climb away from the relegation zone. Kerry have won two and lost two of their four games so far.
Round 6: Kerry v Kildare; Derry v Tyrone; Mayo v Galway; Donegal v Laois.
Round 7: Tyrone v Mayo; Donegal v Derry; Laois v Kildare; Galway v Kerry.
Division 2: Top Four Meet in Crucial Clashes
Saturday 29th March (7.30pm):
Cavan v Cork @ Kingspan Breffni Park.
Sunday 30th March (2.30pm):
Roscommon v Westmeath @ Dr. Hyde Park
Armagh v Dublin @ Crossmaglen
Monaghan v Meath @ Clones
It's 1 v 3 and 2 v 4 in next weekend's crucial series of ties. Monaghan (7 points) top the table from Dublin on scoring difference and will be at home to third placed Meath (5 points) on Sunday while second placed Dublin (7pts) will be away to fourth placed Armagh (4pts) in Crossmaglen). Westmeath and Cork are also on four points so it's tight between the top six but there's a gap back to Roscommon (one point) and Cavan, who together with London and Kilkenny, are the only teams in the League not to have picked up a point yet. Indeed, if Cavan lose to Cork, relegation will be inevitable if results above them go a certain way. Cavan will be at home to resurgent Cork on Saturday night while, Roscommon who are in relegation trouble too, will also have home advantage against Westmeath. Monaghan and Dublin remain the only unbeaten sides in the group and if they both win on Sunday they will have taken a giant step towards promotion. From a Meath viewpoint, it's vital that they beat Monaghan because otherwise they will be four points adrift with two rounds remaining. It's equally important for Armagh to beat Dublin if they are to stay in the promotion hunt.
Round 6: Cork v Monaghan; Dublin v Roscommon; Meath v Armagh; Westmeath v Cavan.
Round 7: Armagh v Cork; Dublin v Meath; Roscommon v Cavan; Monaghan v Westmeath.
Division 3: Fermanagh Defend Group's only 100% Record
Saturday 29th March (7.00pm):
Down v Limerick @ Newry.
Sunday 30th March (2.30pm):
Sligo v Fermanagh @ Markievicz Park
Longford v Louth @ Pearse Park
Wexford v Leitrim @ Wexford Park.
Fermanagh's first two games may have fallen victim to the weather but it hasn't discommoded them in any way as they top the table with four straight wins, leaving them with the only 100 per cent record in the group. Meanwhile, their next rivals, Sligo are struggling at the bottom end of the table, just one place above Leitrim (on scoring difference) having won just one of four games. It's a worrying time for the Connacht champions who badly need to start picking up points if they are to avoid the drop to Division 4. Wexford have won seven of eight points and with home advantage against bottom side, Leitrim, they will be confident of keeping on track for promotion.
It has been a disappointing League so far for Louth and Longford (one win each) so their clash at Pearse Park is absolutely crucial to both. Third placed Down have high hopes of promotion and will be hoping to strengthen their claim at home to Limerick on Saturday night.
Round 6: Fermanagh v Wexford; Limerick v Longford; Leitrim v Down; Louth v Sligo.
Round 7: Down v Fermanagh; Limerick v Leitrim; Longford v Sligo; Wexford v Louth.
Division 4: Offaly & Antrim well Primed for Promotion
Sunday 30th March (2.30pm):
Carlow v Tipperary @ Dr. Cullen Park
Offaly v Waterford @ Tullamore
London v Antrim @ Ruislip
Clare v Wicklow @ Ennis.
Offaly and Antrim have opened a three point gap at the top of the table and look highly likely to maintain – if not extend – it on Sunday. Offaly, who have hit 13-71 in five games so far, will be at home to Waterford while Antrim travel to Ruislip to take on a London team that has conceded 10-61 in four games. Tipperary are currently in third place on the table but face a tough test away to Carlow while Wicklow and Clare, both of whom had high hopes of being promotion contenders, have fallen away. Wicklow, who have also disappointed, are two points clear of Clare as they prepare for Sunday's trip to Ennis.
Round 7: Tipperary v Antrim; Carlow v Waterford; Offaly v Kilkenny; London v Wicklow.
Round 8: Waterford v Tipperary; Kilkenny v London; Wicklow v Carlow; Clare v Offaly.
Round 9: Tipperary v Wicklow; Carlow v Kilkenny; Antrim v Waterford; London v Clare.
2008 Allianz National Football League Results to Date
Division 1
Round 1
Feb 2: Donegal 1-8 Kerry 1-7; Derry 2-9 Mayo 1-9; Tyrone 0-7 Kildare 1-4
Feb 3: Galway 0-15 Laois 1-9.
Round 2
Feb 16: Kerry 0-12 Tyrone 0-9; Derry 2-12 Laois 1-9
Feb 17: Galway 1-12 Kildare 2-8; Donegal 2-11 Mayo 0-16
Round 3
Mar 1: Laois 1-13 Mayo 1-13
Mar 2: Galway 1-14 Tyrone 2-9; Kerry 0-10 Derry 0-9; Kildare 0-12 Donegal 0-11.
Round 4
Mar15/16: Donegal 1-12 Galway 1-11; Derry 1-16 Kildare 0-8; Tyrone 0-16 Laois 0-14; Mayo 0-16 Kerry 1-12
Division 2
Round 1
Dublin 1-7 Westmeath 1-5; Meath v Cork – not played (points awarded to Meath); Feb 3: Monaghan 1-18 Roscommon 1-8; Armagh 0-14 Cavan 1-10.
Round 2
Monaghan 2-12 Cavan 0-10; Cork v Dublin – not played (points awarded to Dublin)
Roscommon 1-12 Meath 0-15; Westmeath 1-11 Armagh 1-6
Round 3
Mar 1: Dublin 1-9 Cavan 0-7
Mar 2: Cork 1-14 Roscommon 0-15; Monaghan 1-11 Armagh 1-10; Westmeath 1-10 Meath 0-8.
Round 4
Mar 15/16: Dublin v Cavan – postponed due to ground conditions; Armagh 4-20 Roscommon 0-8; Cork 0-11 Westmeath 0-9; Meath 0-15 Cavan 0-13.
Division 3
Round 1
Feb 2: Down 1-12 Sligo 2-5; Feb 3: Limerick 1-10 Louth 0-9; Wexford 3-8 Longford 1-9; Mar 9 (Postponed on Feb 3 due to pitch conditions): Fermanagh 3-10 Leitrim 2-9.
Round 2
Feb 16: Longford 2-10 Leitrim 0-6; Down 1-14 Louth 2-10; Wexford 0-14 Sligo 0-13; Mar 22: Fermanagh 0-14 Limerick 1-7 (Postponed on February 17 due to bad weather).
Round 3
Mar 2: Sligo 0-14 Limerick 1-10; Louth 2-17 Leitrim 2-8; Wexford 2-8 Down 0-9; Fermanagh 2-10 Longford 1-10.
Round 4
Mar 15/16: Fermanagh 0-11 Louth 0-10; Leitrim 1-12 Sligo 0-6; Limerick 1-12 Wexford 1-12; Down 0-19 Longford 0-16.
Division 4
Round 1
Feb 3: Carlow 1-12 Clare 0-10; Offaly 5-16 London 1-6; Antrim 1-13 Wicklow 1-8; Tipperary 4-20 Kilkenny 1-5.
Round 2
Feb 9: Antrim 2-25 Kilkenny 0-6; Offaly 3-19 Carlow 0-8; Wicklow 1-15 Waterford 0-12; Tipperary 0-13 Clare 1-7.
Round 3
Feb 16: Antrim 1-13 Clare 0-3; Waterford 2-9 Kilkenny 0-8; Carlow 3-10 London 1-9; Offaly 1-11 Tipperary 1-7.
Round 4
Mar 1: Antrim 0-13 Offaly 1-10
Mar 2: Wicklow 2-34 Kilkenny 0-5; Waterford 1-13 Clare 0-10; Tipperary 1-23 London 0-4.
Round 5:
Mar 15/16: Offaly 3-15 Wicklow 1-6; Clare 4-19 Kilkenny 1-4; Waterford 1-12 London 0-3; Antrim 0-13 Carlow 0-7.