Down & Derry set for U21 showdown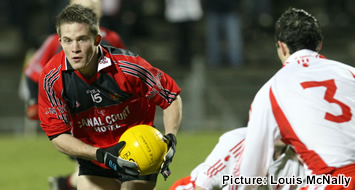 Down and Derry will meet in the final of the Cadbury's Ulster U21 Football Championship on Saturday 5th April at Casement Park (2.00pm), following very different semi-final victories over Tyrone and Donegal respectively.
Down 0-14 v 0-13 Tyrone
Down recovered from a slow start to edge out Tyrone by the narrowest of margins in an enthralling encounter at Casement Park.
The 2005 All-Ireland MFC champions got off to a terrible start as the O'Neill County raced to a 0-03 to no score lead following points from Ronan McRory (2) and Cathal McCarron. They had an opportunity to further extend their lead, but Jason McAnulla's penalty was well saved by Michael McAllister.
Down responded with points from Paul McComiskey (4) and midfielder Kevin McKernan to draw level, but Sean O'Neill sent Tyrone in with a one point lead at the break.
Shortly after the break, James Colgan leveled for Down and they pushed on to a 0-11 to 0-08 lead, before Tyrone responded with 4 points to re-take the lead.
Livewire corner forward Paul McComiskey fired over another two points to bring his personal tally to 0-06, and another from McKernan ensured to Mourne Men's passage into the Ulster Final.
Down: M. McAllister, M. Digney, C. Murray, H. Magee; C. Garvey, K. Duffin, T. Hanna, James Colgan 0-1, K. McKernan 0-4; C. Maginn 0-1, C. Magee 0-1, E. Toner, C. Brannigan 0-1, R. Kelly, Paul McComiskey 0-6.
Subs – J. Caldwell for E. Toner; J. Murphy for H. Magee; S. Grant for T. Hanna.
Tyrone: G. Kelly, N. McGinn, C. McCarron, H. Gallagher; C. McGinley, Sean O'Neill 0-1, D. McBride, A. Cassidy, S. O'Hagan 0-1; G. Devlin 0-2, C. Cavanagh 0-2, J. McAnulla, R. McRory 0-3, J. Lafferty 0-2, C. McCarron 0-1.
Subs – Conor O'Donnell 0-1 for C. McCarron; Damien McDermott for D. McBride and Shane McMahon for H. Gallagher.
Ref – G. Walsh (Antrim)
Derry 4-13 v 0-07 Donegal
Derry found the going at Healy Park much easier as they cruised to a facile win over Donegal in the other semi-final of the Cadbury's Ulster U21 Football Championship.
The game was completely dominated by Derry from the start as they surged to a 2-05 to 0-04 lead by half-time, and the game was all but over after they added a further 1-03 shortly after the break.
Ryan Kealy put the final nail in the coffin with his second goal of the game in the closing minutes to set up the final clash with Down.
Derry: M. O'Neill; D. Bell, N. Holly, M. McShane; B. Og McAlary 0-1, C. McKaigue, D. McBride, M. Craig 0-1, B. Gormley; James Kielt 0-5, Ryan Kealey 2-0, S. L. McGoldrick, P. McWilliams, E. Lynn 1-2, E. Brown 1-3.
Subs – D. McEldowney 0-1 from a free for Lynn, C. Lynch for D. Bell.
Donegal: M. Boyle, D. Walsh, M. McPaul, M. McGowan; D. Gallagher, S. McGowan, P. Witherow, L. McLoone, G. McFadden 0-2; M. McElhinney 0-1, C. Murrin, P. McGinley 0-1, B. Faherty 0-1, C. Murrin, P. McGinley 0-1.
Subs – R. Wherity for Waide, G. Ward for Faherty, F. McNulty for McLoone, E. Hegarty for McPaul and D. Gavigan for Murren.
Ref – M. Higgins (Fermanagh)