Ulster set for 3G Pitches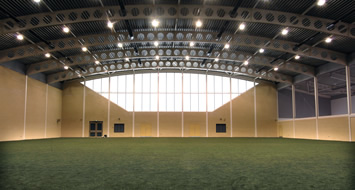 Arising from the Ulster Council Management meeting on Thursday 13th March, Ulster are now in line to have the first two full size third generation synthetic Gaelic pitches provided during the current year.
The first phase of development is part of the Strategic Investment Programme, announced by Uachtarán C.L.G. Nickey Brennan in 2007, and will be taken forward by the Ulster Council in conjunction with the National Infrastructure & Safety Committee and the National Finance Committee of the GAA.
This project will be part of the greater investment in strategic facility provision on a regional basis in Ulster which is being addressed by the GAA over the next five years.
Tom Daly, President of the Ulster Council, welcomed the permission to proceed with the first two pitches and said that this would represent significant investment in the facilities and the future of Gaelic Games in Ulster by the Association.
(Pictured is the 3G Indoor Pitch at the University of Ulster, Jordanstown)