Ireland's First Gaelic Academy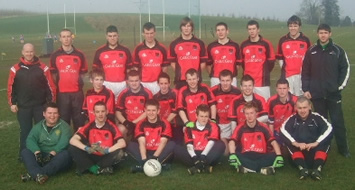 Southern Regional College, Armagh Campus is proud to provide Ireland's First Gaelic Academy.
The College, Armagh County Board and the Ulster Council have joined forces to develop and enhance the opportunities for potential elite performers in all Gaelic games.
The Academy will combine full time education with a training package, which allows students to play the sport they love to an excellent standard, whilst gaining academic or vocational qualifications.
The programme embraces the development of sporting, leadership, personal and social skills which prepare students for a possible future in coaching/playing Gaelic sports.
As well as your full time course of study the academy programme covers:
Development of young referees
Coaching qualifications at foundation level
Child protection
Code of best practice
Personal development courses for coaches such as planning for a season strength and conditioning defending workshop, goalkeeping and place kicking player development
Performance analysis
First aid
Working toward Armagh County Teams
In order to be eligible to enter the academy students must be at least 16 years of age and must be enrolled on a full time programme within the college. All academic programmes are monitored carefully and training and playing will depend on students commitments to their academic studies.
Experience of playing Gaelic sports at school is desirable although not essential as students who apply to the academy will be invited to attend trials and selections panels.
If you would like further information on Ireland's First Gaelic Academy please contact Lee Rooney at Southern Regional College, Armagh Campus on 028 3752 2205 or email ronneyla@src.ac.uk.
Pictured is Lee Rooney, Coach and the squad of the SRC Men's Gaelic Team before the final of the Magee Cup.