Antrim Centre of Excellence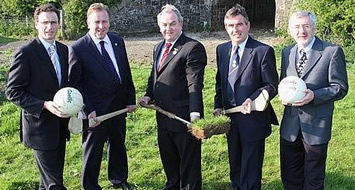 A Centre of Excellence for the development of Gaelic Games in Antrim moved a step closer on Wednesday at a sod cutting ceremony presided over by County Chairman Dr John McSparran and attended by GAA President Nicky Brennan alongside Ulster Chairman, Tom Daly. The ceremony which included a presentation on the plans was also attended by representatives from every club in Antrim. The Centre of Excellence has received financial support from the GAA nationally as well as through the Ulster Council and from the fundraising body, Club Aontroma.
A 26 acre site has been acquired at Dunsilly in Antrim for the £8million Centre which will serve the needs of the local St Comgall's club, Antrim county, as well as Ulster Council and the GAA nationally. The overall Masterplan has been completed and GAA officials are preparing to submit a planning application for Phase 1 of the project within the next few weeks. The Centre of Excellence is a core element of the Antrim Strategic Plan which was launched in December 2006. A major fundraising drive is underway in the county, backed by Club Aontroma, which today announced a £50,000 contribution to the project.
President of the GAA, Nickey Brennan expressed his delight at the project:
"This is the first launch of a regional infrastructure project enabled by the new GAA Strategic Investment fund. The Ulster Council, Antrim County Board and the Naomh Chomhgalls club are to be congratulated on their vision and commitment to the development of the GAA in this area. This project will ensure that there will be a long lasting legacy from the rental income from Croke Park which I believe will see the Association thrive in this large and growing urban area".
Ulster Chairman Tom Daly wished the project success and stressed the regional role for the new Centre,
"The strategic location of this site is a tremendous opportunity for the GAA in Ulster and Antrim. The Ulster Council has been involved since the inception of this initiative nearly 2 years ago and we are now delighted to support Antrim's efforts in providing the physical infrastructure which underpins our games in the county and in the province. The plans which have been developed for the Dunsilly site are very exciting and I congratulate those involved for their vision, commitment and energy. The partnership approach between Ulster and our constituent counties such as Antrim will ensure the success of this project and hopefully many more in years to come. I wish to acknowledge the co-operation we have received from the GAA at Central level and in particular from the Uachtaran Nickey Brennan who immediately recognised the importance of this location and this project."
Welcoming progress on the Centre of Excellence John McSparran said,
"This is the most significant development there has been for years in the GAA in Antrim. Considerable work has already been done in acquiring this land to date and has involved representatives from Naomh Comgall's, Club Aontroma, County officials with support from Ulster and Central Councils. It is a unique development in that it is much more than a facility just for clubs and County teams. Strategically this unique site will facilitate Regional and National projects alongside Antrim initiatives."
John McSparran thanked those who have been involved in the process so far and stressed the long term commitment required from Antrim gaels to make the project a reality.
"This project will ultimately cost in the region of £8 million. As a County we must generate considerable revenue over the next few years. I want to take this opportunity to make a personal guarantee to Antrim supporters: every penny of the money we have raised and will continue to raise for this Centre of Excellence will be used specifically for this project. We are indebted to those who have supported our fund-raising initiatives so far. That this support continues is vital though. Currently we are raising funds with the Saffron Sweep with over £100,000 of prizes available. We need our clubs and our supporters to make a concerted effort over the next few weeks to ensure that this initiative is as successful as last year. I am certain this project will help to deliver long term success for Antrim."
Eamonn Prenter, Chairman of Club Aontroma handed over a £50,000 cheque to the project and stressed the continuing role his organization will play in the project.
"Club Aontroma has only been in existence for less than two years and we are pleased to be able to make a significant contribution to the development of the Centre of Excellence. Club Aontroma has organized the second Antrim Raceday on the 30th May and that event is already sold out. At the same time we are increasing our membership so we can see genuine desire to build a successful county in Antrim. We plan to make a sustainable and lasting positive impact on the development of Gaelic Games in Antrim."